Thomas Van Eeckhout is a father of two daughters who spends his free time running and reading. As the current CEO of Easi, he's also all about getting and giving opportunities, and although he's always carried this philosophy, he certainly didn't start out as CEO.
Thomas started his career as an Internal Sales & Administration officer at Easi back in 2006. Easi is a Belgian IT company that combines software development (Adfinity & Smartsales) and consulting with Managed IT & Security Services and believes companies can achieve better, smarter performance by using humanized technology based on trust.
After having evolved in Easi's sales department, Thomas took on the responsibility as CEO of the company, a role which he shares with Jean-François Herremans.
Thomas is driven by company culture & values and dedicates a large part of his time to fostering strong company culture. He must be doing ALOT right because Easi ranks as the 3rd best employer in Europe!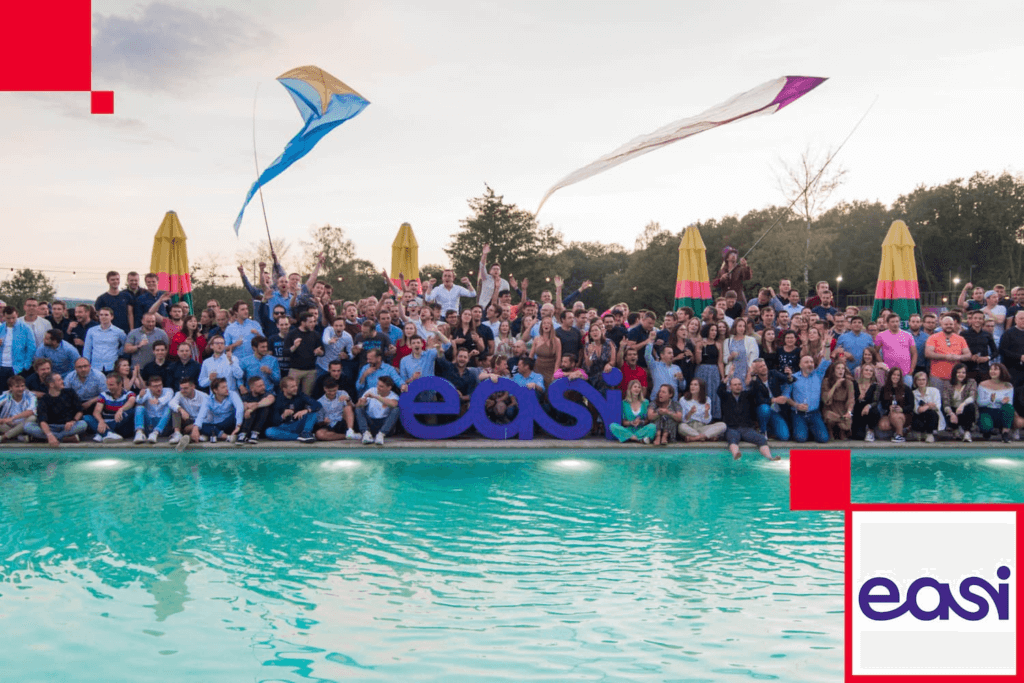 And has grown to 450 people – doubling the number of employees in the past 3 years 
In this interview on the Chaos to Clarity show, Whale CEO Gary, spoke to Thomas on the importance of replacing yourself in business.
"As far as I'm concerned, a company should never depend on individuals."
Give opportunities for growth to your people
✅ Whenever people grow, your company will grow, and you don't have to carry the entire load yourself.​
Thomas says he has the easiest job in the company, with 95% of the operational work and challenges being tackled by the team. He credits this to pushing people to take responsibility and ownership.
Managers often talk about how important it is to be a mentor and coach for their people. This is true, but it's also important that you create opportunities for growth within your team. 
Having people around who you can trust and rely on is one of the most important parts of running a business. When you have this, it will be easier to delegate tasks and get more done during your working day.
When you're looking for ways to grow your business, it's important that you give opportunities for growth to your people too. This doesn't just mean offering some training courses or sending them on courses; it means giving them the chance to work on projects directly or indirectly related to their respective fields. Or allowing team members the opportunity for problem-solving. 
You should also consider letting them work on projects that interest them—and there are plenty out there! If someone wants to work somewhere else but has never had the opportunity because they've always been working at a desk job with no room for creativity, try giving them some freedom (within reason), so they know what they're capable of doing themselves without having someone else tell them what needs doing next week or tomorrow morning at 9am sharp.
Give people ownership in their career path
✅ The main thing that allows people to take that ownership is we have, we have different levels throughout the organization. Every level is described in detail; not only what we expect people to do from an activity perspective but also from a desired behavior perspective.
"The question I often ask myself is do we really give them the possibility to take ownership? If you want people to take ownership, we have to make those possibilities as explicit as possible. You really have to allow them to take responsibility over their own careers.
As far as Easi is concerned, we really don't do flat careers. I think 99% of our people are working towards a certain goal. They're, they're learning a new skill, a new competence, a new responsibility. So that is something that allows us as a company to be in continuous movement and always to keep pushing, and keep evolving."
Make opportunities for growth as explicit as possible
This means that they can take responsibility for their own career path and develop their skills, experience, and responsibilities. You should also encourage them to take on new challenges and roles – but make those opportunities known.
This is just one reason we encourage mentorship and knowledge sharing within our organization. If we don't share knowledge, then basically, our company will depend on those individuals that have that specific expertise.
We want people to share their knowledge. From the very first level from every junior inside of our company, we expect them to understand the importance of knowledge sharing. And that's something that we will evaluate at least once a year. Whenever people evolve inside the organization, we expect them to become a driver behind that principle of sharing knowledge.
So be very clear on the expectations you have, and people will know the way forward.
And also align personal growth with company growth
If you want to attain a senior level inside of our company, we expect you to come forward regularly with initiatives that really push us to share knowledge. That is a principle that I really find very important in managing a business; is to align your people's ambitions with the objectives you have as a company.
If you have ambitious people in your company, aligning their objectives with that of the company is going to drive overall success. It's a very healthy way of realizing goals.
The ultimate goal of a manager is to be replaced by someone from inside the team
We start with functional coaching, we start with project management, and, at every step, whenever we notice that we're not getting the results that we aimed for, we can stay, we can take a step back and look as much at the manager as we do at the team member.
In business, the ultimate goal of a manager is to be replaced by someone from inside the team.
If you create an environment where this can happen, and if you focus on training and developing people instead of just managing them, then your teams will be more successful in general.
The goal is to create a culture of learning so that when there's a new challenge or opportunity, everyone can step up and lead.
In order to accomplish this goal as a manager, it's important for you to have some basic skills yourself:
You need to know how to manage people in an inspiring way.
You should also know how to ask great questions so that people are able to share their knowledge with each other.

In many cases, managers want to take credit for the things that their team has been doing but the job of a manager is quite simple; it's to create a context where people can be successful.
"So really, the mission of a manager is to make the people in your team successful and not just to be successful yourself."
A manager doesn't have to have all the answers; they just have to be someone who can facilitate and drive teams towards success. That's a real accelerator in a business.
The job is to drive growth, not burnout
A year or two ago, Elon Musk claimed that he spent entire weeks at the office working 24 7. And I really believe that that is something that is wrong with entrepreneurship.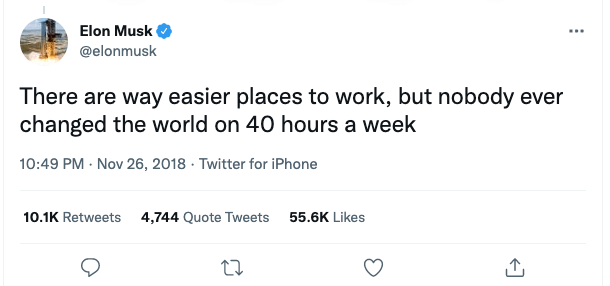 The goal isn't to boast about working long hours and promoting burnout. 
You should take credit for running a successful business without pushing yourself towards burnout. I want to build a company that can be successful in a hundred years, 200 years' time. And that is basically what drives me.
So if I want to achieve that, and I have to, then I have to change the way I work myself. And, and, and that is something that. Would really like to add this because, um, working 24-7 is not the way.
Internal promotions are the best way of strengthening culture & values
✅ So all of our management positions have been filled in by our people. And it's not that we have open management positions. People basically just create their place inside of our management team because they build the business, they grow the business, and at a certain point in time, it's just logical to have them join our management team. That means that whenever people actually join our management team, there is almost no risk.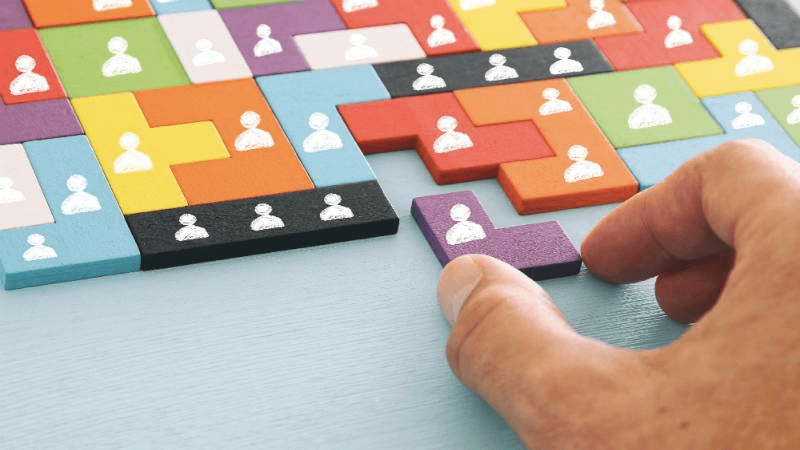 I'm always afraid when I see companies hiring managers externally because it has to be really frustrating to be working inside of a company and at a certain point in time, you get a manager that comes from a competitor to explain to you what you have to do, and how. Yet you've probably done the job for a couple of years.
If you want to create a culture that people are proud of, then you should be sure to promote people from within. This is an excellent way of showing your employees that they have the potential to succeed in any position at the company—as well as making them feel valued and appreciated.
Give people the opportunity to invest 💰
Work is an investment. It's also where people spend the majority of their time. But like all good investments, it should pay back.
At Easi, we'll not only give you the opportunities, but we'll also make you a partner and will make you co-owner of the company by offering a lot of stock options.
We have a hundred shareholders. So one out of four has invested in Easi and has become a co-owner. They have to put money on the table, so it's not stock options. They really have to invest. It has to be a very conscious decision.
They need to discuss it with their wife, their husband, their kids, and/or their families. It's really about walking the talk.
So all of the things that I have mentioned, It wouldn't make sense to be the sole owner of the company and to have a hundred percent of the shares. It wouldn't make sense because I'm not the founder either, but it just wouldn't feel right, to claim all of the things that I've been explaining and then not to share the company.
It is an excellent way to give recognition to people and to allow them to, or basically thank them for, for the commitment they have towards our company.
A real-life example of how to make yourself replaceable in business
Thomas Van Eeckhout started out as a junior and worked his way up to CEO. He's the very embodiment of the philosophy of empowerment.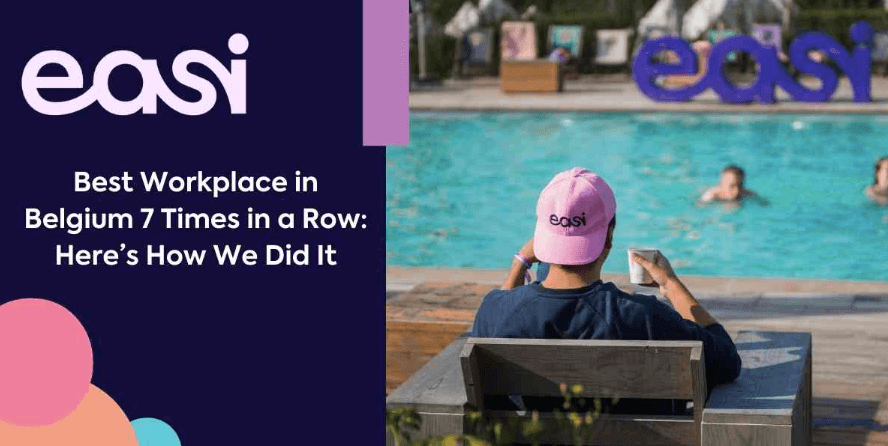 Easi has been around for 22 years. And it's been elected Best Workplace in Belgium (under 500 employees) every year since 2015.
They've been able to maintain the culture and DNA from 1 to 400 employees. 
Seeing the correlation between the growth in the size of the company and the years of success in business, there's definitely something to be said for the strategy of making yourself replaceable in business.
Well done Thomas and the team!