In this interview, we find out why the Process Component™ is so tough for companies that run on EOS®, what made Whale the perfect partner for Traction® Tools and how that link has revolutionized Megan's day-to-day. Let's dive in!
For ten years, Megan Mayfield lived the marketing life. But in 2018, she leaped to the tech world when she took on the role of Director of Business Development at licensed EOS software provider, Traction Tools.
As a marketer turned business development ace, Megan has always had a natural knack for connecting with people. But process and organization — well, that was a bit trickier.
In this interview, we find out why the Process Component® is so challenging for companies that run on EOS, what made Whale the perfect partner for Traction Tools and how that link has revolutionized Megan's day-to-day. Let's dive in!
The Process Component® doesn't have to be an uphill climb. Learn more about how Whale can help make it easy.
What's inside this interview:
If you run on EOS, you can't afford to skip process
Finding a process partner for Traction® Tools
Pinpointing the proper structure for each SOP
Making your SOPs scalable
The four features you need to win at process
If you run on EOS, you can't afford to skip process
Terrible at keeping track of your SOPs? You're not alone.
For many (if not all) companies that run on EOS, the Process Component is the most challenging component to nail — but it's one of the Six Key Components™ for a reason.
"During my time with Traction Tools, I've seen how identifying your core processes, documenting them, ensuring they're followed by all and scaling them company-wide can really get everyone in your organization rowing in the same direction and providing the same service each time to every client."
Alongside Vision, Data, Traction, Issues, and People, Process is a crucial part of the EOS Model®. As an EOS software provider,  Traction® Tools offered collaborative features for four of these components — and Megan also identified a need for integrated process management.
To many, process is the secret sauce that helps optimize an entire business. Yet even for internal business leaders, Megan shares that it's "frequently one of the most undervalued areas of business".
"I've never been very strong in process and project management," Megan admits. "When I started working for Traction Tools, I found myself very disorganized."
Honestly, we've all been there.
But after taking on the task of leading her department, Megan started to see the real results a strong process component could have — for her, her team, and the company at large.
By adding process management to their suite of business tools, Megan knew Traction Tools could help their clients grow in new and exciting ways.
So when she and the team at Traction Tools assessed their holistic EOS software offering and identified a process gap, they weren't prepared to let that hold their customers back.
Finding a process partner for Traction® Tools
"Process is something EOS focuses on as integral to success," explains Megan. "And it hasn't been a component that we'd focused on when developing the software."
Traction® Tools is known for doing many things well (meeting agendas, metric tracking, and organizational structure management, to name a few), but for something as impactful and far-reaching as process, they knew they'd need an expert partner to help their customers nail it.
That's when Megan's search began.
She and the team at Traction Tools set out to find a partner who could bridge the process gap, wow their customers, and make the mammoth task of gaining traction on process finally feel easy.
After searching for the right match, she stumbled across Whale.

Beyond any star-studded functions or features, Megan's biggest partnership prerequisite was simple. She was looking for a partner with shared values.
And with Whale, it was an instant connection.
"We were all very abundant-minded, looking for ways to bring value to people and to help people find ways to grow their businesses and find win-win solutions," she recounts.
"We weren't ever focused on 'getting a deal done'. We love helping, we're optimizers, and we find a way to win. And that doesn't mean finding a way to win at the expense of others — we shared that human approach to our business conversations, and that's very rare in life."
Now that Megan and the team at Traction Tools had found the process partner they and their customers had been looking for, it was time for her to walk the walk with her team.
Pinpointing the proper structure for each SOP
When you start creating company processes, the first dilemma you'll likely face is how to create your SOPs and where to document them.
Because, let's face it, nobody cares about your Google Drive taxonomy.
This was precisely the issue Megan faced with her team. Even though they already had a solid library of SOPs in place, these processes were scattered across Excel, Google Sheets, and Google Docs.
For processes that your employees will use and love, they first need to find them. Megan's advice?
Start by pinpointing the proper structure for each SOP:
The checklist: This is the simplest option for processes with only a few steps, like setting an out-of-office.
The flowchart: Most processes are more complex. For those, it's often better to put them into a visual format, like a flowchart.
The knowledge platform: If you're looking to win at process, it's all about sharing knowledge and making it easy to train and onboard new employees.
By simplifying the act of creating, managing, and sharing processes, Megan was able to keep the team's SOPs visual and engaging.
"I love using Whale with my team. We have all of our processes documented in it. I also really love the automations, workflows, and Chrome extensions that allow us to keep processes top of mind, instead of flipping back and forth between different screens to check on things," explains Megan.
"We have everything right there."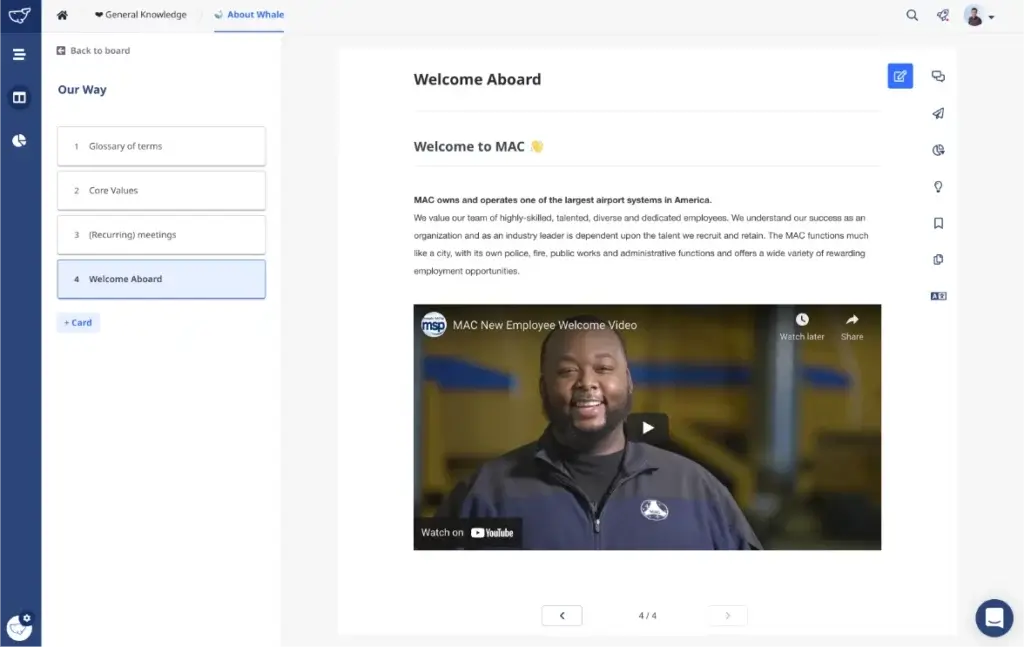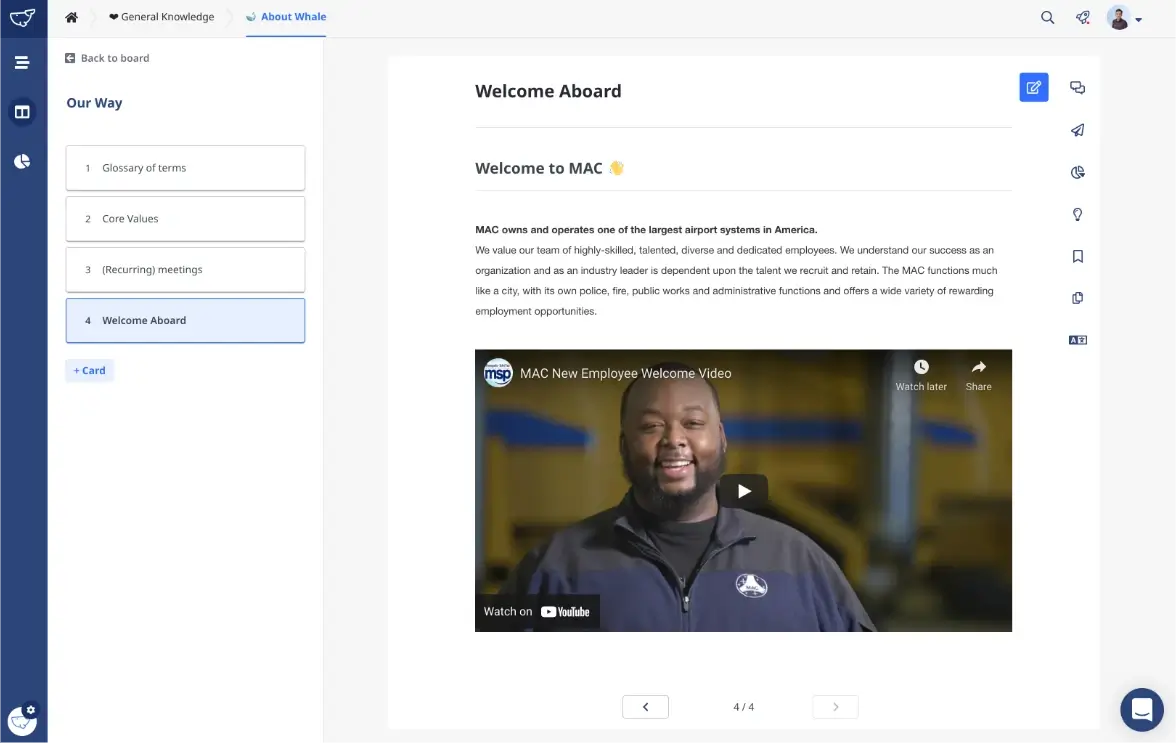 "Whale's user-friendly dashboard gave Traction Tools everything they were missing. And then some."
Making your SOPs scalable
Writing and publishing your SOPs is a significant milestone. But the thing about processes is, they don't just stop with you. They don't even stop with your team.
Once you've created an excellent SOP, you need to scale it to the broader business.
"To have a tool and a team that is so knowledgeable in just helping you scale your process is valuable to our business," Megan explains.
Traction® Tools has always valued scalability internally and across its client base. But bringing comprehensive process management to their platform was destined to be a game-changer.
"We've always documented our process, and we've always been able to scale them. Our software provides all the necessary EOS tools, but we just hadn't focused on developing this component," she says.
For her, the secret to scaling success is all about accessibility.
"There are so many platforms where it'll be great for leadership, and then we just have to force our teams to use it," Megan explains. "It's just an additional tool that employees think, 'Why is my manager asking me to learn yet another platform?'. But Whale has found a way to make this accessible."
The way she sees it, asking your team to learn a new system is much easier to do when the system itself is easy to learn:
"Having a tool that is easy to use, and where the UX and UI are just simple, is really powerful. It's so much easier to ask people to follow these processes time and time again, because it's not complex — these processes can be followed by all. As a manager, asking my team to keep these processes top of mind isn't adding to their plate. It's something that actually makes their lives easier and the end result is higher quality."
Megan Mayfield, Director of Business Development, Traction® Tools
Here are some top tips to help keep your processes as accessible and scalable as possible:
Create personalized dashboards: With easy-to-use knowledge sharing, employees have fast access to the info they need.
Tailor employee learning: Get ahead — schedule specific process training and tailor it to individual roles, progression, and success requirements.
Facilitate learning on the go: Help employees learn on the job through features like Whale's Web Extension, which offers relevant SOP pop-ups based on the specific task an employee is working on.
For Megan, the proof is in the feedback.
"Our clients have been impressed with the ease of use and how it makes process just a little more intuitive, especially once you get everything documented. It allows companies to use those processes."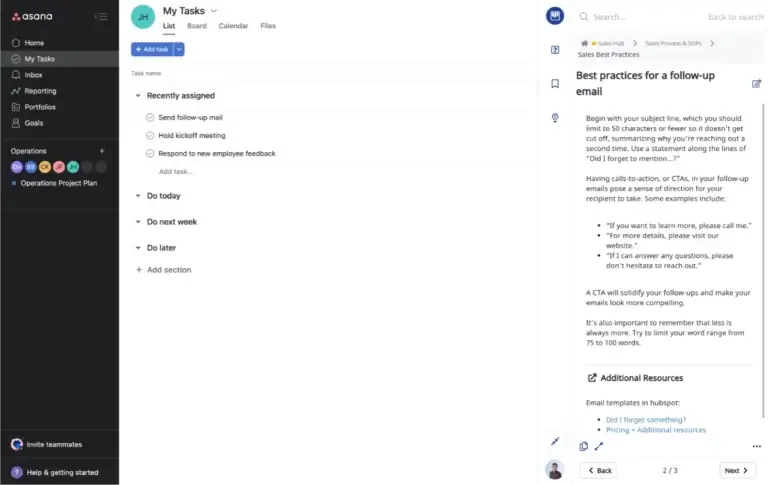 The four features you need to win at process
But Megan's tips for process don't stop there.
Now that she and her team at Traction® Tools are all working from the same playbook, she believes these four ingredients were vital in helping them get aligned.
Easy-to-use UX: Alongside a clean user interface, the simplicity of copying from anywhere and pasting the source formatting perfectly is a must.
Marie Kondo level organization: Megan explains that Whale is organized into Libraries, Playbooks, and Cards, making it super simple (and quick) to gain a broad and deep overview of any process.
Access all areas: Whether she's dialing in on her own team's processes, or assisting another department, being able to easily access and navigate through the company's entire processes and workflows is a dream.
Tagging: For busy teams like Megan's, the ability to tag other users, leave notes for them, reference another team, or ask a question is a significant time-saver.
Traction® Tools and Whale was just a natural fit
When you boil it right down, the secret to process is to make it as natural and easy as possible.
By keeping it simple, accessible, and visual, Megan's team at Traction Tools has revamped how they work internally. And they've revolutionized how their software tackles the Process Component, too, elevating their customers' experience and expanding their ability to reach new heights through EOS.
For Megan, partnering with Whale to achieve that "just made sense."
"The partnership that Traction Tools has with Whale has been great. In general, we love working with them," she says. And the feeling is mutual.
Ready to break out of shared drive chaos and scale knowledge across your teams?

Take our free assessment and receive your report and action steps today!