There are a variety of different types of training that are crucial to ensure you're giving your staff the tools they need to succeed. In this miniseries, we're going to give you everything you need to understand the three most important types of training. In this second part, we're going to focus on employee training.
In this miniseries, we're going to give you everything you need to understand the three most important types of training:
Ongoing Employee Training
Transitional Training
The second type of training that we'd like to share with you is ongoing employee training.
Whilst it may seem obvious, continuing a well-structured training routine for your staff throughout their employment can have a hugely positive effect on their abilities, confidence, and likelihood to remain with the business.
Part 1: The three types of training – Part 1: Onboarding new hires
Part 3: The three types of training – Part 3: Transitional training
What is Ongoing Employee Training?
Ongoing training helps you and your staff in several ways.
Skills
The most fundamental area that training affects is an employee's skill set. Designed to assist your staff in acquiring and maintaining the skills they need to do their job, you can rest assured that you're providing everything they need to grow and develop as required.
Engagement/Frequency
Having a good training regime encourages employees to feel more engaged and enthusiastic about their work, meaning they are likely to do a better job. It also helps them to simplify their workplace experience and allows them to undertake more responsibilities.
Retention
Training is one of the many things that can affect employee retention. The more integrated your team is with their working environment, the more likely they are to become successful and stay with the company for a longer period of time.
Culture
Providing an experienced and well-structured training program within your business is an important and integral part of developing your internal culture.
At Whale, we specialize in Connected Training, which helps your teams with the bite-sized content they need, exactly when and where they are working. This empowers your teams with the information they need to succeed through continuous learning and builds towards an active learning culture.
Challenges to Successful Employee Training
There are a few things that can stand in the way of building a successful employee training structure. 🤓
Digital Transformation: To stay up to date with the ever-changing business environment, companies must keep pace with existing technology. This is particularly pertinent in areas such as operations and strategy. You must ensure that the technology used to complete your training remains fit for your purpose.
Adopting new tools and software: In line with digital transformation, adopting digital tools and software is also an important piece of the puzzle. Employees need to be kept up to date with any new software which becomes available to assist them in completing their roles. Therefore training is vital to a successful rollout.
Innovating new products and services: Another common change within a business is innovation. Whilst innovation in business is sought after, it can leave many businesses behind that do not move with the times.
What are the benefits of ongoing employee training?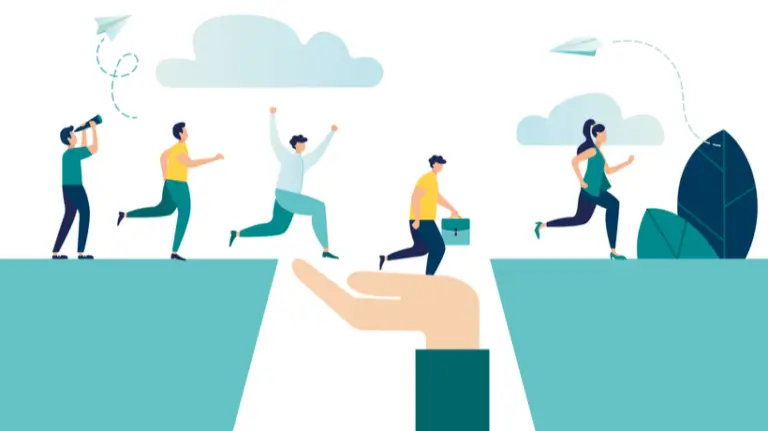 Despite the challenges, your business can take a great many more benefits from ongoing employee training.
Firstly, it allows you and your staff to stay ahead of the curve regarding industry changes, including what is considered 'best practice,' compliance and regulations, and new technologies that can help the way you work.
It also allows you to identify any weaknesses or learning/skill gaps in your staff and allow you to resolve them before it becomes a wider issue.
A good learning routine will help maintain and improve your employee's knowledge and skills whilst improving their performance and job satisfaction levels. It will also help to keep your teams consistent, ensuring they all have access to the same information in the same format.
How does ongoing training work?
Ongoing training allows businesses to close the digital gap between employees and their tools. As the tools required continually develop and evolve, so must the training that an employee undertakes to use those tools.
Traditional training methods are now inadequate for their purpose, so digital adoption is now a key focus.
Staff training allows you to seamlessly integrate tools into the workplace and provide the information needed to use those tools properly. Employee training must ensure that digital tools are utilized to their fullest extent and for their intended purpose.
As productive members of the workforce, it's likely your staff will use multiple tools to carry out their roles, meaning training must also focus on cross-training and cross-platform proficiency. A good program is the best way to ensure your employees can achieve this.
As we mentioned previously, the digital economy is continuously changing, meaning that your business must evolve with it to stay viable. The more agile your internal processes for change are, the better you can respond to these changes and become successful in the digital age.
Things worth keeping in mind:
Skills: Your ongoing training program should be developed depending on the particular skills you are trying to develop or augment.
Frequency: It's important to ensure you don't overload your staff with training but offer them support when and where it's needed.
Delivery: Once you have agreed on the focus of the training and your frequency, you need to determine how you will deliver your ongoing training.
Whale's just-in-time training delivers bite-sized information to your staff when they need it the most, focusing on:
Relevant to work-related tasks and skills
Helping toward an active learning culture
Providing the ability to prompt feedback
Your ongoing employee training checklist
Good employee training should be based on the following checklist:
Your staff must find value in training and be motivated to learn and change their behavior.
The material should provide continuous performance improvements.
Ongoing training should be a part of getting the work done, not an additional requirement.
Employees must have the functionality to provide feedback, allowing you to optimize and improve processes.
Policies and procedures should be in place to ensure that any misconduct can be dealt with fairly and judiciously. Policies should be built to make employees accountable for such behaviors and have fair consequences.
At all levels, employees should be expected to challenge, examine and reflect on their own skills, knowledge, abilities, and motivations which could enhance or limit their personal and professional growth.
Employees should be rewarded for training and improvement achievements.
How Whale can help 
Whale is the knowledge and training platform that connects your team to their every process, policy, and procedure, in the moment of need.
We help you reimagine how you train and empower your team, providing the resource for delivering contextual content to your teams in their moment of need, allowing them to learn in a more gratifying and effective way.
Part 1: The three types of training – Part 1: Onboarding new hires
Part 3: The three types of training – Part 3: Transitional training
Want more help with structuring your onboarding process? Why not download our eBook "How to integrate and optimize your onboarding processes"?