Why we're so obsessed with process
A few years ago our CEO Gary, was running a business where every day felt like putting out fires. He kept answering the same questions and kept solving the same problems. It just didn't make sense.
"Eventually, I took a step back to think about the real challenge at hand. The challenge was that we were scaling but couldn't keep team members scaling at the same pace.
Every time someone new was onboarded we left it to a current team member to bring them up to scratch.
I knew there was a more effective solution and it began with the question of how to get everyone on board in real-time AND operating efficiently. I.e. how could I stop answering the same questions and instead focus my time and energy on the growth of the business?"
Why should you be obsessed with process?
Bottom line. Literally. 💰
Process helps you ramp up new hires faster. It's all about winning back time so that you actually have time to scale the business, focus on growth or actually go on vacation. 
Process could even be the ticked to improve the valuation of the organization as you prepare to sell. 
At the end of the day process is a competitive advantage.
But it turns out process isn't the problem
Between our team, we've interviewed hundreds of entrepreneurs, VP's and heads of teams. There wasn't a single one who said that process wasn't important. It was actually quite the opposite. 
Every person interviewed categorically stated that they'd realized that process was essential to the growth of the business and that it was a key piece that was lacking in the business.
But not every person we interviewed signed up to Whale. 🐳
We were confused. 
So we investigated further. 
Process wasn't the problem that needed to be solved. Helping people get it done was the real challenge for most.
It turns out that most people know the importance of process but don't have time to get it done. Or rather they think they don't have time because they think it takes longer than it actually does.
And this is why we launched a 14 day challenge because…
Process is easier than you think
So what's the process challenge all about? Well, it probably depends on who you ask. For some of you, it's about ensuring more consistency across your teams.
We're about ramping up new hires faster. For others, it's all about winning back time. Spend working in the business, so you can focus more on working on it, or it could even be to improve the valuation over your organization as you prepare to sell. 
Our CEO is on a personal mission to help over 1000 businesses get all of their core processes documented, shared, and measured in just 14 days.
Because by the end of it, you will run a better business, keep and retain better talent, and ultimately live a better life if you define how you want your business to operate.
Here's the long and the short of it.
It's two weeks during which you'll receive a daily video where you'll learn about the fundamentals of systemizing. You'll receive a daily task, and if you complete each task every day, you will have documented and shared all your core processes and also have a system in place to improve our process continuously.
What else?
Apart from the 14 daily videos, you'll get templates, the book Process!, free access to the Whale software, private coaching, 2 live webinars, and a certificate of completion!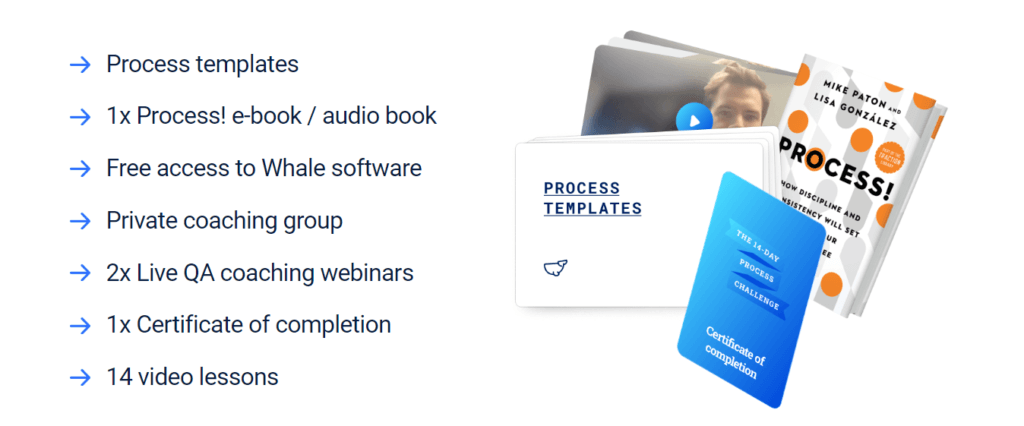 Experts will be there every step of the way to not only give you the blueprint. It'll also be coaching you to get the work done.
We'll cover things like how to identify your core processes, how to engage your team, and how to keep it concise and easy to consume. And we'll be sharing best practices, tips and tricks, hacks, methodologies, and just so much more. So for a lot of people, this never gets done because they don't find the time, the resources, or the energy.
But once you have built that foundation, It becomes very simple and easy to embrace process as a part of how you run and grow your business. 
The cost to attend is just $99, OR it's free if you bring your entrepreneurial friends.
Who should join the process challenge?
Join the challenge if you're
😔Tired of chaos in your team and/or business
😔Everyone on the team does things differently
😔No one knows where to access information
😔You lose time every time you onboard new hires
😔You have a high employee turnover
😔Your business may fall to pieces if a key team member leaves
😔Your business has hit a glass ceiling