Entrepreneurship is a busy practice with serious dedication needed to unlock growth. No one has time to log in to different applications daily to ensure they're accessing certain features. Google's Chrome Web Store has thousands of free downloadable extensions available. 
As we've made it our mission to help entrepreneurs unlock growth, we thought we'd share some of our favorite extensions. 
Google's Chrome extensions give you a minimal interface rather than an entire website or application to handle your work. Instead of you having to go find certain features by accessing them through a website, extensions make it more convenient for the user or add new features to your browser.
It's all about streamlining cumbersome activities and making it faster and simpler to carry out everyday tasks.

1. Best chrome extension for time optimization
Have you ever been late for a meeting with an important client? Or even worse, missed it completely because you forgot to check your calendar?
Meet Checker Plus for Google Calendar
Checker Plus is more powerful than regular calendar extensions with both desktop and voice notifications.
Although our favorite feature is the meeting notifier, Checker Plus also includes push- notifications and loads of features, options, and updates.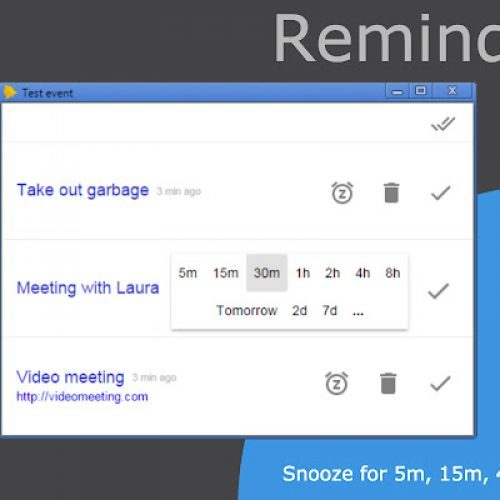 Developed by "The Green Programmer" Jason Savard, a trusted developer of many extensions with more than one million satisfied users worldwide, Checker Plus is reliable and trustworthy. 
2. Best chrome extension to systemize and automate process
Have you ever needed important information from someone within your organization but didn't know where to find it? Perhaps at the time, you needed it, they were away?
Whilst we're entirely biased, we honestly couldn't function as a team without our own application. Whale means we can find fun stuff from our core values to our customer knowledge base.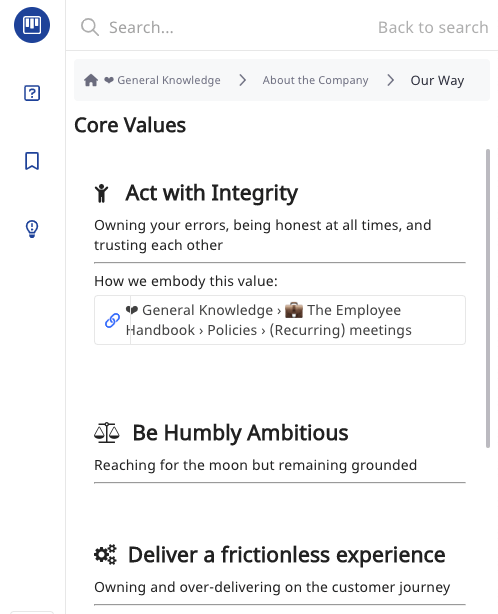 Whale gives users access to company knowledge when and where your team needs it.
Ditch your outdated process documents and manuals, and set your team up for success with modern training experiences.
As the knowledge and training platform for fast-growing teams, Whale helps you centralize your processes, SOPs, and tribal knowledge so you can onboard, train, and support your teams better.
Not yet a Whale customer?

3. Best chrome extension to calm and focus
What if every new tab could calm your mind and increase your focus?
Momentum helps people attain their goals faster and more consistently with their own personal dashboard. Featuring to-do lists, weather, daily photos, and encouraging quotes, it's your own per-tab reminder to focus on what matters most!
Join over 3 million energized users who have leveled up their workspace and day-to-day productivity with Momentum.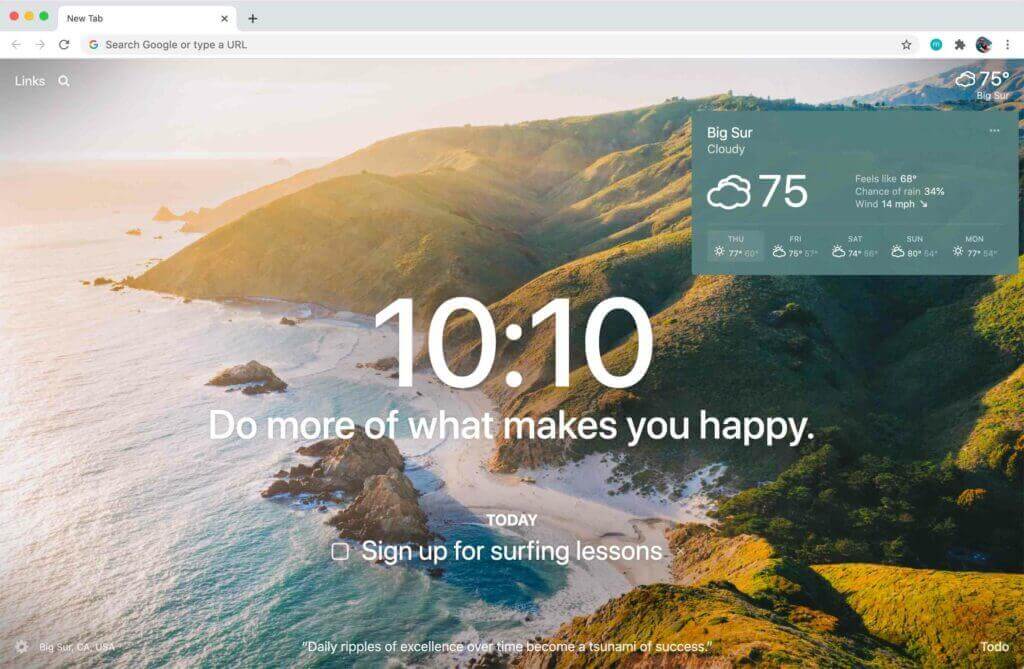 But don't take our word for it. Momentum was featured in Tim Ferriss' Tools of Titans, WWDC21, The Wall Street Journal, Product Hunt, Lifehacker, BuzzFeed, and TheDailyMuse!
Key features include:
✓ A new inspiring photo, quote, and mantra each day
✓ Friendly reminders of your most important task
✓ Easy to use to-do list manager
✓ Shortcuts to your favorite websites and apps
✓ Local weather info
✓ Customizable — show/hide features as you like
✓ Private and secure — they don't share or sell your data
4. Best Chrome extension to communicate
Do you ever receive emails, like this and feel irritated?

Us too! This is why we didn't want to speak to our customers and partners like that. 
Grammarly improves grammar, clarity, and more. Grammarly for Chrome provides real-time writing suggestions on Gmail, Google Docs, Twitter, LinkedIn, and everywhere else you write online.
With Grammarly for Chrome, you can:
✓ Write for clarity
✓ Adjust your tone
✓ Check your grammar, spelling, and punctuation
✓ Check your ideas
✓ Find the perfect words
Join over 30 million people who use Grammarly every day to make their writing shine, or at the very least clearly understood!
5. Best Chrome extension to hunt
Forgot someone's email address? Want to reach out to connect with someone to contribute value?
There's no need to go hunting. Simply use Hunter.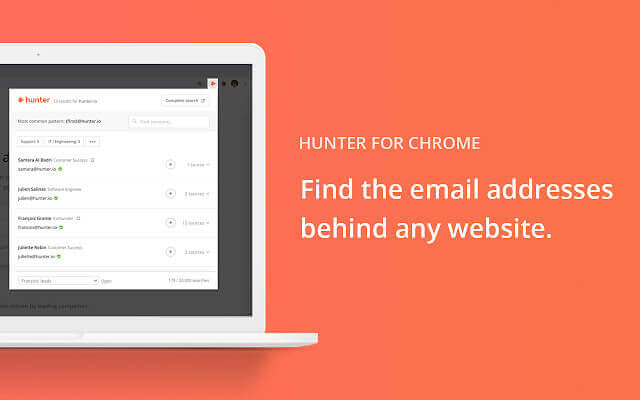 Hubspot's answer to Saleshandy and AeroLeads, this extension has been downloaded over half a million times!
Ready to find email addresses from anywhere on the web, with just one click? Simply use Hunter.
And remember, as per our recent piece on networking in business, it's all about contributing value.

6. Best Chrome extension for security
We reckon it takes just one time to be locked out of an account to build up enough frustration to vow to rectify your password storage.
We featured LastPass in our tools for scaling review and felt the award-winning password manager deserved another mention.
Keep ALL your information and passwords safe with LastPass.
LastPass saves your passwords and gives you secure access from every computer and mobile device.
Stop wasting time  getting locked out of accounts or filling  passwords and  forms online. LastPass  simplifies your daily online tasks  while keeping you  and your family  secure.   
Features
✓ Store usernames and passwords and LastPass will log you in automatically 
✓ Fill forms quickly by saving your addresses, credit card numbers, and more 
✓ Save passports, insurance cards, and anything else you want to keep safe 
✓ All your data is available on any device for free 
✓ Anything you save on one device is instantly synced on all your other devices
And more!
Keep systemizing
The more you systemize, and we mean everything from your company documentation to how you hold meetings (by the way, you should really check out Traction Tools!) to your daily tasks, the more effective you'll be.
It's that simple. 
Success isn't a matter of magic. It's a matter of daily consistent action taken over a period of time that yields results. 
The more you can automate and systemize, the less decision fatigue you're going to experience and the more time you'll have to focus on activities that give you personal or professional growth.