What are the top tech tools for scaling in 2022 and how do you create a Tech Stack? They can make or break your teams and operating efficiency.
The use of technology in business used to be skewed to big companies with big budgets. However, a flurry of new technology service providers has created opportunities for scaling businesses in recent years. As a result, startups and growing organizations can now quickly reduce operating costs, systemize processes, and improve quality and focus within the company, thereby creating a platform for growth for employees, customers, and the business itself.
The fact is that the tech stack has evolved a lot for the modern startup to such an extent that tech fatigue is a thing these days. Priority for startups is figuring out the best tools to use and what to use together to avoid duplicating or adding unnecessary tools to the mix.
While there are many on-offer solutions, there are champions within each category.
Clients often ask what technology they should adopt in their organizations to help them scale, so we thought we'd share our own top seven list based on what we use within Whale and from our experience with customers over time.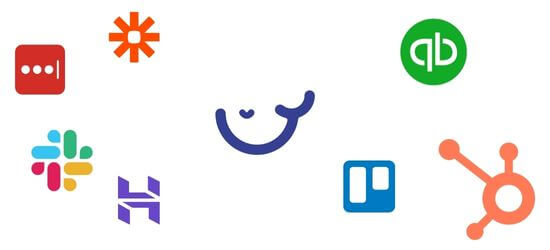 Our Top 8 Tools for scaling every startup needs
CRM – Hubspot
Communications – Slack
Knowledge Sharing and Training – Whale
Project Management – Trello
Make meetings matter – Traction Tools
Accounting – Quickbooks
Password Security – Lastpass
Automation – Zapier
There are a gazillion CRM applications on offer for startups and scaling businesses. Still, HubSpot CRM is one of the best options to improve not just your customer experience but marketing too. That's the joy of Hubspot as being an almost-everything-in one tool!
You'll have access to tons of features, such as:
Tracking email conversations, companies, contacts, deals, and tasks
Inviting other team members for free (because there's no per-user charge) when you create a new account.
An easy-to-navigate dashboard that displays any current deals you have, recent tasks, and important emails.
Automatic syncing with all your platforms, like website, emails, and social media, to update contacts.
Drag-and-drop communicator that allows you to send emails and calendar invites, place calls, and record notes in one place.
Email workflows for marketing
Hubspot CRM is free, but add-on's such as Marketing Hub and Sales Hub start at $50 per user per month.
Intercompany email is dead – long live Slack! Slack brings team communication and collaboration into one place so you can get more work done, whether you belong to a large enterprise or small team.
Why Slack?
Slack's third-party app integrations give it a natural contextual edge over both chat and email apps, making it relevant and easy to use.
Slack channels mean you don't need to be in on every conversation and can keep track of what's been said.
It's mobile-friendly – of course! Who needs WhatsApp?
But what we really love are the options to send your colleagues gifs and smiley faces. Kidding, but it does lighten up workplace conversation and keep users engaged.
Pricing starts at $6.25 per user per month.
Data, Process & Knowledge sharing – Whale
We know you already have a technology stack. So it's not a question of just adding another tech tool.
No, Whale is a POWER-UP TOOL designed to help you reach your teams where they're already working. Our solution integrates with your favorite platforms, including:
Organizational knowledge is one of your business's greatest assets, but typically when organizations scale without a system in place, knowledge sharing turns to Chaos or doesn't happen.
It's all well and good having knowledge documented, but if it isn't shared, it becomes redundant.
Whale is THE knowledge-sharing tool that centralizes all of your standard operating procedures, policies, and internal knowledge so you can better onboard, train, and grow your teams.
By sharing the right information with the right people at the right time, teams can scale more effectively and ultimately deliver better in their roles.
Whale helps you
Centralize and Organize team knowledge
Improve operational efficiency
Whale is offered on a free trial basis. Click here to sign up.
Project Management – Trello
Do you find it challenging to manage your own and your team's tasks effectively? Do you see deadlines falling through the cracks because it's difficult to keep track of due dates and the progress of each task?
Welcome to Trello, the visual collaboration tool for shared project management and perspectives.
Running a scaling business is all about efficiency, and with Trello, you'll be able to
Visualize Project Workflows: Present projects visually using Kanban and Scrum layouts.
Hit Deadlines: Add due dates to cards and set reminders for everyone.
Reduce siloed working by keeping a bird's eye view of work progress.
Trello is free with limited functionality and starts at just $5 per month per user on the standard feature.
You're ready to grow your business—but do you have the right business management tools to do it? Over the last eight years, thousands of entrepreneurs have used Traction Tools to run powerful, transformative meetings. No silos. No confusion. Just Traction.
With Traction Tools you can
Supercharge meetings
Build a lean, mean working machine with business management tools that help you refine your processes
Measure success and areas of improvement
Boost transparency and accountability
Pricing starts from $149 per month for up to 10 users. 
We use Traction Tools within our stack at Whale and it's worth every cent! We wouldn't be the same without it!
Developed by Intuit®, Quickbooks is a full-featured accounting software that can handle business transactions, bills payment, and payroll. QuickBooks is the most popular small business accounting software businesses use to manage income and expenses and keep track of the financial health of a business.
Quickbooks helps
Easily track your cash flow.
Build better business insights.
Track expenses, customize invoices, run reports, and more.
You can access Quickbooks features for as little as $15 per month
Password Security – LastPass
LastPass is a password manager and generator that locks your passwords and personal information in a secure vault.
Why does such a small detail matter in a scaling business?
You'd be surprised at just how much your business could be at risk without password protection. You'd be even more shocked to learn how many users use the same password across multiple applications or, worse, opt to be remembered leaving the business susceptible to risk.
LastPass:
Generates secure passwords.
Has a Chrome Extension to enable password recollection across all applications and sites.
Audits existing passwords.
It is available on mobile devices and the web.
Pricing for premium starts at just over $2 a month.
Automation – Zapier
Imagine that you had a person who could sync your professional and personal calendar? Or imagine you could make sure every email that came with an attachment synced to your company network?
Welcome to Zapier, the online platform that helps you automate workflows by connecting the apps and services you use. Zapier automates specific tasks, so you don't have to.
With Zapier, you can
Easily automate work without writing any code.
Automate repetitive tasks so you can focus on work that matters.
Connect all the software you rely on with 3,000+ ready-to-use integrations.
Pricing starts at $19.99 per month for the started option
Considerations when adopting new platforms or tools for scaling?
Different organizations have different considerations, but there are a few standard points to consider when adopting tools for scaling.
The Job to be done
A million different programs are 'nice to haves' but are entirely irrelevant to the business's mission.
What job does this tool do, and how does it help the business?
Don't get distracted by all the shiny dashboards out there; unless they're impacting on business, they may not be an essential tool. For this reason, it is crucial to evaluate technologies and tools from a strategic and technical viewpoint. Choose tools that genuinely meet your needs and allow you to scale.
Team knowledge and upskilling
Will, your team, require training, and what is the time needed for new tool adoption?
New tools offer advantages, but your team may not have deep experience working with them. You will have to factor in the extra time needed to learn the new technology. We suggest trying out free versions of various technologies to experience the product for itself.
Cost
What is the cost of the product and implementation?
Consider the cost and overall value of the tech stack. Spending money on tools that service business and operational efficiency will cost the company much less in the long run.
Scalability
What are the opportunities for scale with the adoption of a particular product?
Ultimately, any product should increase operational efficiency but allow more work to be done or eliminate specific tasks entirely.
Vendor support
What support does the vendor offer?
Choose tools, look for those that provide support in the way of a knowledge base or a customer success team. Choose brands where your success matters to them as much as their own.
Remember – Tech is a platform for growth and scale
Given the high failure rate and intense competition in business today, the odds for success can be tipped in your favor by having the right business tools for scaling business at the onset.
"There aren't just benefits of systematizing your business. It counts as a competitive advantage in this day and age and creates a platform for scaling and growth."
Ultimately technology and your tools for scaling business should:
Save you time
Save you money
Enable you to scale
Connect your team more to their purpose
Want to scale but don't know where to start?
Take our free readiness to scale assessment and receive a complimentary report with action steps you need to unlock growth today!