If you've been pondering questions like, 'What is the People Analyzer™?', 'How do I use the EOS® People Analyzer?' and 'Where does the People Analyzer fit into my business?', you're in the right place.
I got 99 problems, and…my people are 98 of them. 🎶🤯
Unfortunately, this is the theme song to many a company's story.
Hiring, retaining, promoting, and terminating employees is one of the most complex parts of growing a business. And for EOS Worldwide founder Gino Wickman, it's also one of the most essential business areas to master.
This is exactly why he placed people at the heart of his Entrepreneurial Operating System® — a set of tools and concepts to help savvy entrepreneurs elevate their businesses.
And to really get to grips with the People Component™, he introduced a vital element of the EOS Toolbox™: The People Analyzer.
So if you've been pondering questions like, 'What is the People Analyzer?', 'How do I use the EOS People Analyzer?' and 'Where does the People Analyzer fit into my business?', you're in the right place.
Here's what we'll cover:
The People Component: a speedy intro
The People Analyzer — everything you need to know 💡
Handling the People Analyzer's outcomes
Ready to solve your people problems with processes the whole team can get behind? Book a free demo with Whale today!
What's the People Component all about?
EOS revolves around the Six Key Components™: Vision, People, Data, Issues, Process, and Traction.
And the People Component is all about:
While the other five components can undoubtedly cause their share of issues, it's safe to say people issues are typically responsible for some of your biggest business headaches. And they're way more costly, complicated, and difficult to fix too.
This, honestly, is why many leaders put off solving them at all.
But ignoring a problem never makes it go away. And the good news is, with the People Analyzer tool, the task of actually solving these issues gets a whole lot less daunting.
So let's dive in!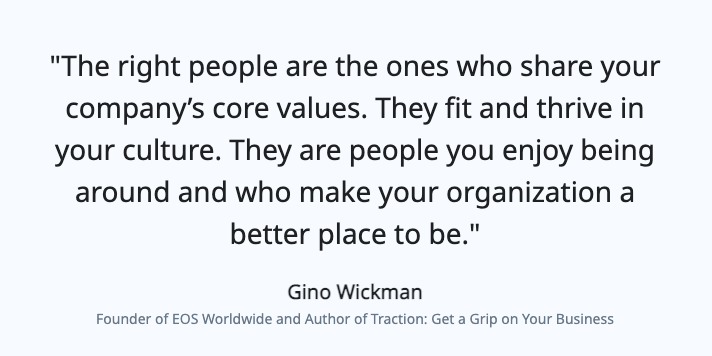 The People Analyzer: who, what, when, where, why and how?
Before we dive into the People Analyzer, let's get one thing straight. Perfecting the People Component means perfecting the Process Component™ too.
And to do that, you're going to need to simplify how you document, access and share the processes your leaders need in order to make good people decisions.
The People Analyzer is a great process to help you kickstart that journey.
But what is the People Analyzer actually?
The People Analyzer is a pretty simple process that asks two sets of questions you can apply to each and every seat within the organization:
1. Does the person in that seat embody your Core Values?
2. Do they GWC™ that seat?
Do they get it? Do they want it? Do they have the capacity to do it?
Okay, so how does it work?
You'll usually have between 3-5 Core Values as a company. And if a current or prospective employee doesn't embody those values, chances are you're not a match made in heaven.
The People Analyzer is a way of testing that.
For everyone from potential recruits, to future promotees, to those who just aren't fulfilling their seat responsibilities.
How does it look in practice? A little like this.
Start with the Core Values.
1. Take just one Core Value.
e.g. commitment to a great customer experience.
2. Ask ~3 questions to assess their commitment to that value.
e.g 'what are some of the ways you solved customer problems in the past?'
3. Score each answer with a:
'+' if they match up
'+/-' if they're nearly there
'–' if that core value doesn't align with them.
e.g. 'helping customers' would receive a '+'
4. Repeat for each value and each question you have.
Then move onto the GWC component.
5. Refer to your Accountability Chart™ so you understand what the company needs from the seat and what the seat responsibilities are.
6. Then ask: 'do they get it?'
e.g. Are they made for the seat? Do they have a natural kinship to it? Understand it on every level? Is it who they are? Were they born to do it?
7. 'Do they want it?'
e.g Are they excited about it? Passionate? Does it make them want to come into the office every day? Is it what they get out of bed for?
8. 'Do they have the capacity for it?'
e.g. Do they have the mental, physical, emotional capacity for the seat? Do they have the time capacity? Do they have the knowledge or skills? Or could they with training, mentorship and investment?
Finally, do the math.
9. Set a bar for the number of '+', '+/-' and '-' answers our employee or candidate needs in order to secure the seat.
e.g. 18 questions — a candidate must have 10 '+' with 3 '+/-' or higher.
10. Add up how many of each the employee or candidate has.
Note: As a rule you should aim for more '+' than '+/-' or '-'.
Et voilà! 10 steps to people scoring success.
Got it, but why is the People Analyzer so popular?
Over 110K companies are already using EOS tools. And the People Analyzer is a fan favorite among them.
The reasons behind that? Well, there's a few:
Simplicity: Making people decisions is tough, especially figuring out the fit. The People Analyzer boils it down into a simple 10 step process that works every time.
Speed: You can spend hours humming and hawing over a people decision. And those hours are costly to the business. Basing decisions on straightforward yes/no answers and a total calculation saves you a ton of time.
Standardized: Recruitment and promotion processes in particular can be subjective. The People Analyzer standardizes and streamlines the process to make it fair for all.
Synchronicity: Skill sets are simple to judge. But testing for that fit, feel or connection can be a minefield. Asking Core Values questions with a yes/maybe/no scoring system makes finding that synchronicity a breeze.
Sophistication: Hands up if you've been through a terrible recruitment, promo or review process.
Usually, there's a broken process to blame. Enter the People Analyzer: fixing and elevating people processes across the board.
Awesome — so when can we use the People Analyzer?
The People Analyzer slots right into your day-to-day management processes. That means when you're:
Hiring
Promoting
Transferring
Reviewing
Terminating
When you sit down to have your Quarterly Conversation™ with each direct report, check if your employee is still aligned with the company and the seat.
When you're interviewing for a new seat, transfer or promotion, get the People Analyzer out and do the math.
And the toughest task: When you get that nagging feeling that someone is in the wrong seat (heck, even the wrong company entirely
) go back to the People Analyzer and really asses them. Then make the tough choices based on logic, not emotion.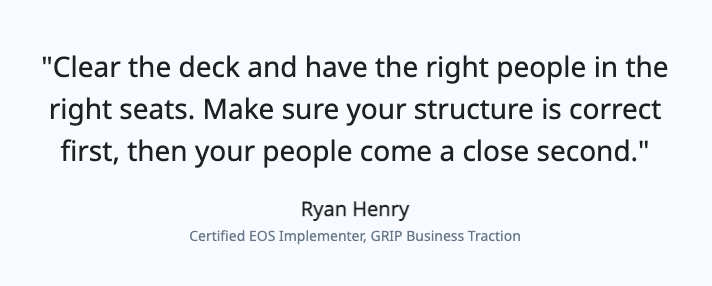 So is it just leadership who can use the People Analyzer?
Definitely not! The People Analyzer can be used at all levels of your business.
In fact, it totally should be. And not just by managers.
The People Analyzer can be a great tool for self-reflection. If you've taken the time to effectively manage your processes, documenting and making them accessible, your employees should be able to assess for themselves if they're the right person for the seat they're in.
Create a process that reviews the People Analyzer regularly. Don't forget, people change. And what's needed from the seat can too.
Finally, where in the business is the People Analyzer tool used?
The beauty of the People Analyzer is that it can be used at every seat level.
Whether you're interviewing new Directors or interns, their commitment to your core values and their ability to GWC the role is just as important. And the People Analyzer works just as effectively.
Don't jazz it up or dumb it down — once you have your questions in place, stick to them and roll the process out company-wide.
Taking action on the People Analyzer's results
It may be that all your employees and prospective recruits are the perfect fit for your company. But, let's face it — that's highly unlikely.
In scaling your business, you're bound to cross paths with:
External applicants whose skill sets don't align with the seat.
Internal applicants who aren't quite ready to make the leap.
Existing employees who just don't mesh with the Core Values.
And there's no two-ways about it, making these changes is hard.
Whether it's postponing promos, terminating contracts, or rejecting applications, saying no to people gets awkward.
But that's the whole reason the People Analyzer exists: to facilitate having that conversation in the most evidence-driven, productive and aligned way possible.
Because chances are, once you explain to them the disconnect the People Analyzer has raised, they'll begin to see it too.
And as long as you manage the process well by:
Having these conversations well in advance of taking any action
Looking inwards first to check that you, the company, or your values aren't at fault
Assessing whether steps can be taken to align them with the seat they want
…you can commit to your course of action knowing it's the right thing to do.
Core Values + People Analyzer = Right People
The People Analyzer is all about getting the right people in the right seats.
But it's also about making that task way less painful than it usually is. No sleepless nights. No constant back and forth. No waiting around to summon up the courage to make your move.
When you bring it back to the basics, like the People Analyzer does, the question 'Is this person really right for this seat?' is actually a pretty simple one.
So create your People Analyzer process today and leave those people problems in the past. You got this!
Is it easy to document, share and scale your People Analyzer process across your business? Are you looking to scale?

Take our free readiness to scale assessment and receive your complimentary report with steps to help you unlock growth today!