Without processes, things get messy. These simple tips will help you master the EOS® Process Component™ and scale your business as painlessly as possible.
Every company has issues. Misalignment, poor communication, and a lack of transparency are the most common issues businesses face.
But when you dig a little deeper, the root cause of these problems is usually the same:
A total absence of process.
Without processes, things are bound to get messy. And without the clarity processes provide, even the most straightforward daily task can lead to frustration, wasted time, product inconsistencies, and chronic demotivation.
So while the idea of creating and documenting the processes behind each function within your business may not be the thing that gets you pumped to go to work — your company playbooks and SOPs are the exact things that will make your organization a fantastic place for everyone in it.
If you're ready to grow your company the right way, lean in. We're going to dive into the EOS® Process Component™, to help you master this crucial piece of the business-scaling puzzle once and for all.
Here's what we'll cover
What exactly is the EOS Process?
Seven steps to strengthen the Process Component.
Nailing the Process Component doesn't have to be so hard.
Ready to end inefficiency and boost profitability? Find out how Whale can help make it easy to build scalable processes your employees will follow.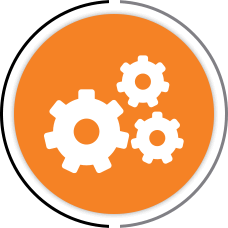 What is the EOS® Process Component™?
The Process Component is one of the Six Key Components™ recommended by the Entrepreneurial Operating System®, the business management system that's made up of tools and concepts to help ambitious entrepreneurs elevate their business.
In a nutshell, the Process Component is the secret sauce to company-wide success. This component is all about identifying, documenting, and scaling the core processes that keep your organization on track to achieve its vision.
When you decide to focus on the Process Component, you're creating an aligned and consistent workforce that knows the direction they're pushing in.
Because when you break it down, pretty much everything your business touches runs on some process.
From employee onboarding to revenue-driving sales SOPs, and even the best ways to host a rockstar Level 10 Meeting™ — it's all about having an easy process to follow.
More often than not, though, we take for granted that the way we do things is the right way. But how many times have you tested that assumption? In many cases, business leaders don't focus on the process until an unhappy customer or costly employee mistake brings it to their attention.
If that's you, don't worry. With these seven tips to process perfection, we'll have your organization rowing in the same direction in now time.
70% of the time, the root of the issue is in either the People Component™ or the Process Component™.
Source: EOS Worldwide
Seven steps to strengthen the EOS® Process Component™
Before we get to the good stuff, there's one task you must pin down first: Identifying your core processes.
For most businesses, the processes to think about will fall under these core departments and functions:
Marketing
E.g., how to create and post an Instagram story
Sales
E.g., how to prepare for a pitch meeting
Accounting
E.g., how to generate a profit and loss statement
Customer Service
E.g., how to escalate customer feedback to the Product team
Operations
E.g., how to provide a forecast for Q4 demand
Once you have an idea of the processes you want to start with, make sure each of them ticks the following boxes.
Process Component™
Process perfection step 1: Double down on documentation
Though it may sound obvious, you'd be surprised how many organizations don't get around to documenting their processes. And that's where the confusion begins.
If your processes are solely in your head, and you pass them on only by word of mouth, you're playing a potentially costly game of telephone. All it takes is one person to relay a single word incorrectly, and the whole process is broken.
We know what you're going to say — you have other things to do besides embarking on the mountain climb that is process documentation.
But pros like Adi Klevit understand just how crucial investing time documenting your processes can be.
"As entrepreneurs, the last thing you want to do is sit down and write procedures — it seems like a mundane, boring task," says Adi. "But you have to be involved in the project. And you have to apply it and maintain it as part of your life, instead of chasing the next shiny object."
Which leads us to our next step…
Process perfection step 2: Make your processes easily accessible to all
You know which processes you need in place. You have them written down. Yet nothing's changing.
Why? Because your employees have no idea about all the hard work, you've done. And, why's that? Because you've filed them away somewhere, they'd never think to look.
This problem is H-U-G-E.
Studies show that employees spend nearly 20% of their week looking for internal information or tracking down colleagues who can help with specific tasks.
And the cost implications of that are pretty eye-watering. Based on IDC research, losing 2.5 hours per day looking for information could cost a company with 1,000 employees around $25 million every year.
If you're spending time creating excellent processes to increase your organization's efficiency, you better make sure they know about it.
Processes are there to make employees' lives simpler. If finding them isn't intuitive, you're just adding another layer of searching to their day (and they won't thank you for it).
Process perfection step 3: Scale your processes company-wide
Once you're in a good rhythm with your SOPs, it's time to scale it up.
Your core processes are essential. But there's no reason to stop there. In fact, there's every reason not to.
Filter process creation down to all levels of your organization. Install them across all departments and functions. And, when you've done that, share your processes with external teams who may benefit from understanding how you work too.
Behind every task in the workplace, there's a process driving success. It's up to you to find the sweet spot between having too few and too many processes. Strategize scaling — introduce them slowly, month by month, department by department, and in order of priority.
Remember, processes are about minimizing workplace burnout, not increasing it. So scale away, but be mindful of process overload.
"With Whale it's so much easier to ask people to follow these processes time and time again, because it's not complex. As a manager, asking my team to keep these processes top of mind isn't adding to their plate. It's something that actually makes their lives easier and the end result is higher quality."
Process perfection step 4: Bring it all together with a rockstar platform ⚡
Okay, so steps 1 to 3 of Ways to Strengthen the EOS® Process Component™ are easier said than done. We hear you.
But with a knowledge-sharing platform on hand to do the heavy lifting, you can make process implementation a breeze.
Look for a platform that allows you to:
Document with ease
Make access intuitive
Share and scale SOPs seamlessly across your org
Gone are the days of pen and paper processes and uninspiring Word docs.
With the right software to up your game, you can make writing, accessing, and sharing processes so simple employees won't even know they're following them.
Choosing the proper process tool means knowing what you and your employees need and not settling until you've found it. If in doubt, check out our handy guide for some proven tips.
Process perfection step 5: Review your processes on the regular
If you've followed the previous step and gotten the right software in place, everything from here on out should be miles easier than those first three steps.
Because this one's all about maintaining a system that already works.
Believe it or not, outdated processes and unnecessary tasks take up 26% of an employee's day. That's one hefty time-killer stealing your employee's attention away from your revenue-generating tasks.
So, why does this happen? The answer is simple, really.
Those processes you created 12 months ago? Yeah, they haven't been touched since. 😶
Processes are living documents. As your company grows, your systems develop, and your software advances — and so should your processes. Otherwise, your people will be spending their time on a process that made sense five upgrades ago but has no relevance in the here and now.
At Whale, our platform has two handy features to help with this:
Assigning process owners: Every process should have someone who owns and is accountable for it. They're in charge of documenting, scaling, implementing, and revising it.
Inputting review timelines: When you create a process, set a time to review it — 1 month, 6 months, 12 months, whatever's necessary based on its importance and likelihood for change. Prioritize business-critical processes, like those you can't afford to let lag.
Process perfection step 6: Make processes part of your Rocks
If you're running on EOS, you already know about Rocks — the top-priority projects to complete within the next 90 days.
Rocks keep the company vision alive by making essential steps towards each quarter's end goal.
For experts like Adi Klevit, processes have to be on the Rock agenda if you're going to ace them. "Companies that run on EOS make process a Rock. They choose a process for the quarter, and they make it happen. So when you set a Rock, you actually have to be on track and meet it, and it will be there to discuss every meeting if it doesn't move forward," she explains.
So if you want to get your processes off the ground, take a top-down approach: ask leadership to prioritize assigning process creation Rocks next quarter and check in on them in their weekly L10 meetings™.
Process perfection step 7: Make processes fun and exciting
If there's one thing business leaders agree on, it's that getting employee buy-in for process alignment is tough. And often that's because it's, well… dull. 😬
We say this with love, but you have to level up to achieve next-level efficiency and keep chasing your vision.
The good news? The right approach to creating your SOPs can make them a lot more fun to look at.
Switch up your fonts, colors, and structure.
Use emojis and gifs for ultra-readability.
Include pictures, videos and voice notes to explain your points better.
While it may not be Disneyland-level exciting, it can be better than words on a screen.
Nailing the EOS® Process Component™ doesn't have to be hard
So there you have it, seven steps to strengthening the EOS® Process Component™ and why each is crucial to achieving process perfection.
Whether it's costing you money, losing you employees, or preventing you from scaling your company, process can be a big blocker if it isn't addressed.
While it may seem like a daunting task — especially if you're in an organization with lots of staff and competing priorities — there are things you can do to make it much easier. And you don't have to face the challenge alone.
With Whale as your process partner, implementing processes suddenly becomes a real possibility. But don't just take our word for it.
Here's how Koen Lopez, CEO of IT services company Direct, sums it up:

Enjoyed this article on Ways to Strengthen the EOS® Process Component™ in your business?

Want to see how ready your business is to systemize and grow? Take our free readiness to scale assessment.