Having some Entrepreneurial Operating System® problems? Why isn't Traction® Working
You're on your EOS® Journey.
Now it's time to step up your game and avoid the major Traction® pitfalls with these process-led steps to Entrepreneurial Operating System® success.
Let's be honest. Making real change in your business is challenging. Super hard.
And not every step you take is going to have instant results.
But if you've been implementing any change for a substantial length of time and you're getting nothing back in return, it's time to step back, take a breath and evaluate.
And companies that run on EOS are no exception.
Founder Gino Wickman created the Entrepreneurial Operating System® to help savvy entrepreneurs elevate their businesses, hit their targets, and scale their success through a set of tools and concepts.
But it's still business. And you're going to face some problems along the road.
If that sounds like the space you're in, and you're committed to becoming a Traction® company, take a look at these three EOS Process®-led steps to help you power through your Entrepreneurial Operating System problems to reach ultimate organizational bliss.
What is Entrepreneurial Operating System®, and where does Traction® fit in?
How Process skyrockets Traction®
Three reasons you're not gaining ground
Process and Traction go hand-in-hand. If you're struggling to make moves with EOS, find out how Whale can help make it easy.
What is Entrepreneurial Operating System® (EOS), and where does Traction® fit in?
EOS is a set of concepts and tools that comprises a complete business management system, empowering entrepreneurs to reach their business goals and improve the lives of every individual the business affects.
At the heart of EOS, you'll find the Six Key Components™ that must be managed and strengthened to build a great business: Vision, People, Data, Issues, Process, and Traction.
The Traction Component™ is all about putting the wheels in motion. Because no matter how well you plan or strategize — you're never going to reach your business objectives without discipline, accountability, strong execution, and a way to ground your vision and make it real.
You need Traction. That's a given. But if you're working hard at it and still not getting the results you want, you're probably not acing the Process Component™ — one of the most critical components for driving Traction.
How to use the Process Component to ace Traction®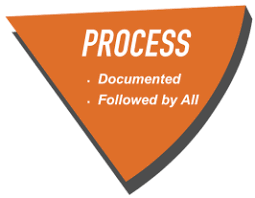 The Process Component is all about identifying, documenting, and scaling the core processes that keep your organization on track to achieve its vision.
Because when you break it down, pretty much everything your business touches runs on some process.
And if you haven't got the processes in place, then it's no wonder you're facing Entrepreneurial Operating System problems and not gaining the Traction or results you need.
But, don't worry.
There are some simple, straightforward ways to solve your Entrepreneurial Operating System® problems with the help of some sharp processes.
Three reasons you're not gaining ground
🚩Entrepreneurial Operating System® problem #1: You've deprioritized EOS
If you're looking to accelerate growth, the obvious answer is to turn to a business operating system.
"Business Operating System: A business operating system gets everyone in the company on the same page, with the same vision, working toward the same goals."
EOS Wordwide
But before landing on EOS, your company may have tried a few other systems — maybe Scaling Up or OKRs.
And chances are, if you're not seeing the traction you're after with EOS, some of your key departments are still stuck on past operating systems and have deprioritized EOS.
Process solution:
To get everyone pulling in the same direction, and operating on the same system, you're going to need two fundamental processes:
An epic onboarding process:

This is where Traction starts. When an employee joins your org, they should be taught what EOS is, how it works and how to rock it. And the way to make that happen is via a slick, simple, and scalable onboarding process. One that they won't forget because it's engaging, well-documented, and super accessible.

An EOS refresher process:

Don't waste time finding out who's chasing the wrong system. Instead, put a rigorous re-training process in place. Ensure the fundamentals are revisited at least annually. And make sure EOS is front and center of that schedule. If there's a train on the wrong track, this process is sure to redirect them.
Top Traction tip:
Look below the surface. Entrepreneurial Operating System® is for everybody — from janitorial, to HR, to sales and beyond. Everything may be fine and dandy within your leadership team, but those on the ground might need a little more help.
Entrepreneurial Operating System® problem #2: Your employees aren't on board
Let's face facts — not everyone will jump on board with a new business system.
If employees are holding up progress because they're not quite there with EOS, there are likely three reasons for it:
You have the wrong people in the wrong seats.
Your top-down implementation needs some tweaks.
Your communication could do with a bit of work.
And to solve those issues? You guessed it.
You're going to need some people-focused process.
Process solution:
When it comes to getting your ducks in a row (or your employees onboard with EOS), it all comes down to solid people processes:
1.
Process for getting the right people in the right seats:
Otherwise known as your recruitment process. Now this one's a toughy. Recruiting the right people into the right roles is no easy task.
You'll need to cover how to:
Decide you need a new seat.
Write a rocking role profile.
Judge a CV or application.
Conduct an interview (and who should conduct it).
Make a final decision.
Respond with offers, rejections, and counter-proposals.
But it doesn't stop there. If you already have people in the wrong seats, you're going to need a few more processes like these to help you out:
How to decide if an employee is the right person in the right seat. Hint: Use the GWC™ tool (gets it, wants it, capacity to do it) from EOS.
What to do with the right person if they're in the wrong seat.
The steps to take if you have the wrong person…full-stop. 
2. Process for managing your managers:
If leaders aren't using, supervising, and teaching EOS correctly, there's little hope for anyone below them. Be sure to have firm, regular processes in place to train your managers on everything EOS — including advice on how to teach and monitor others utilizing it.
3. Nailing your comms process:
If you're under-communicating, or your communication sucks (no shade 
), chances are this has a significant effect on your EOS uptake. Step back, evaluate and plan your comms process:
What 

type

 of comms are you pushing EOS uptake through?

E.g., top-down, bottom-up, peer-to-peer, etc.

What 

methods

 of communication are you using?

E.g., F2F, intranet, email, videos, training, notice boards, meetings, etc.

How are you 

checking

 for understanding?

E.g., questionnaires, feedback forms, assessments, manager 1:1s.
Top Traction tip:
Switching operating systems isn't an overnight fix. Help your employees find their feet with Entrepreneurial Operating System® through:
🚩 Entrepreneurial Operating System® problem #3: You're not giving it your all (and that means everyone)
Finally, you have to be honest with yourself.
If you want the benefits that come with EOS implementation, you can't go after it half-heartedly. This is an all-or-nothing kinda deal.
Like anything worth having, you get out of it exactly what you put in.
So there's no skipping a component. No fobbing off a tool. And no limitations on who adopts the system.
Your entire company has to tackle EOS together, with the same force and the same fundamental belief that things will change for the better. And that means having a process in place to keep a birds-eye check on EOS progress.
Process solution:
To ensure everyone is playing the game, you need a process to help your managers oversee implementation. And be sure that includes a bunch of easy-to-use tools from the EOS Toolbox™ in your process:
Make sure everyone knows their role with the The Accountability Chart™ — remove subjectivity, emotions, or experience and instead ensure everyone knows how to play their part and how others contribute.
Make EOS uptake part of your 1:1 review process with The People Analyzer™ — clearly identify if someone fits your culture and is filling the right seat. If they are, they'll be EOS experts come review time.
Work EOS into your routines with The Level 10 Meeting™, Rocks and a Scorecard — create a process where you can meet regularly to solve issues, define and run through your main objectives and rate your progress on them.
Top Traction tip:
"Identifying, documenting, and scaling your core processes can get everyone rowing in the same direction."
If you want to gain Traction with EOS, everyone needs to be moving in sync, and everyone needs to be following the right processes to get them there.
But to really get your employees on board with your core processes, you have to keep them simple, accessible, and engaging.
No sticking them in an Excel doc, never to be seen again. Instead, prioritize them with an all-in-one process platform your employees can actually get excited about.
And start seeing the Traction levels you and your boardroom can get excited about too. 🥳
Ready to up your Traction® trajectory? 

Let's asses how ready your business is to systemize and grow?