We're sharing our team's book review of "Traction" and Getting a Grip on Your Business but first let us explain how our Co-founder and CEO, Gary Vanbutsele came across the book.
"Any entrepreneur serious about getting what they want from their business has heard of the Entrepreneurial Operating System® — a set of tools created by successful businessman Gino Wickman, to help entrepreneurs like him elevate their businesses and reach their goals.
Like many entrepreneurs at an accelerated growth stage of their business' development, when my previous company started to really gain momentum, I knew it was vital that we grow in a healthy, structured way.
At that time, we were part of a peer network group focused on learning through shared experiences. That's where the concept of EOS® was first introduced to me.
Everyone in the group seemed to be having great success with the system, and I wanted to know what all the hype was about."
So picking up a copy of Traction: Get a Grip on Your Business seemed like a natural starting point.
"What if I told you that by reading this book and applying its core principles, you could eliminate all of your business-related frustrations? That you could have great employees at all levels who share your vision, communicate with each other, solve their own problems, and demonstrate accountability? That your organization could not only run seamlessly, but also have the potential to scale up as large as you see fit? I am telling you that, and you can. Believe it or not, you already have everything you need to make those changes."
Extract from Traction: Get a Grip on Your Business
Book Review: Our team's top takeaways from reading Traction
Running a business means constant chaos. Chaos leads to things getting forgotten, deprioritized, and missed. Traction is a book that offers you a framework to minimize chaos by giving your business the structure it needs. And Whale is one of the must-have tools you'll need to put that process-driven framework into place.
Using EOS gives you a competitive advantage. Traction, by its very definition, assumes that your business will grow. And by applying the framework and honing in on the Process Component™, you're in a great starting position.
Poor structure and lack of vision are expensive. A lack of vision and focus can lose companies and employees enormous time and resources. But it doesn't have to be that way, and Traction teaches you that compellingly and practically.
Armed with that knowledge and crystal clear steps for application, Traction made it possible to self-implement all the tools in the EOS Toolbox™. And the results?
Well, getting our people on the same page with regards to vision, mission and culture is a significant win that money can't buy.
But EOS has given us so much more than just alignment.
"In summary, successful businesses operate with a crystal clear vision that is shared by everyone. They have the right people in the right seats. They have a pulse on their operations by watching and managing a handful of numbers on a weekly basis. They identify and solve issues promptly in an open and honest environment. They document their processes and ensure that they are followed by everyone. They establish priorities for each employee and ensure that a high level of trust, communication, and accountability exists on each team."
Gino Wickman, Founder of EOS Worldwide and author of Traction: Get a Grip on Your Business
After reading Traction, our team Whale ignited a rockstar partnership with Traction® Tools. We now provide EOS services to customers, but we also use the platform internally to maintain focus, structure meetings, solve issues and realize goals.
Whale itself is an organization that works on the basis of EOS and the learnings taken from Traction. We're definitely 'practice what you preach' kind of people. 🐳
So if you're after a framework that has everything you need to keep focused, get things done, and skyrocket your growth, Traction is a must-read.
But if you're looking for quick fixes to solve an urgent pain and get you from A to B quickly (even if those fixes might not pass the test of time), then EOS probably isn't your best option. And Traction probably isn't going to be the bedtime read for you either.
Because as excellent as EOS is, like anything worth having, it requires years of meticulous focus. If you're not at the stage where you can give it your all, then save it until you are.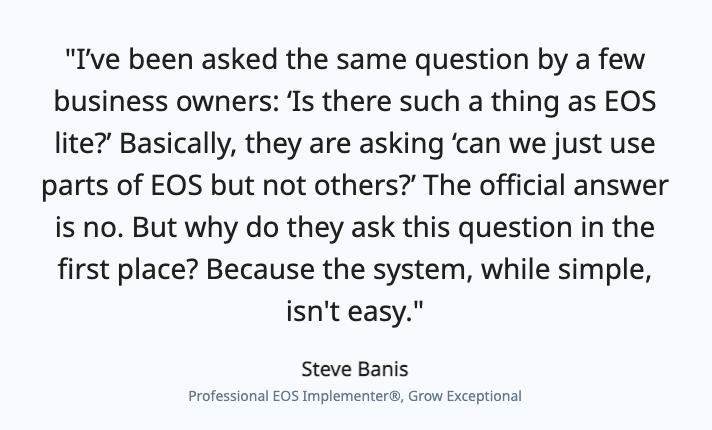 Traction is a book well worth the time investment if you're looking to scale your business in a way that will last. It's actionable, insightful, and speaks to every entrepreneur with a growth-led mindset.
Enjoyed this book review and want to know more about EOS before reading Traction? Check out our EOS 101 guide to learn more.
Or if you know you're ready to scale but don't know where to start, take our free readiness to scale assessment. You'll receive a complimentary report with action steps to help you unlock growth today!