"A Professional EOS Implementer® is a business coach, teacher, and facilitator of proven EOS Tools and processes that help guide leadership teams and entrepreneurs around the world to get what they want from their businesses."
One of the most powerful reasons to use an external coach/facilitator/implementor is that it's impossible for a business to be objective with itself. The gold comes from an external expert with enough entrepreneurial experience and knowledge of the EOS Model®, to help the business gain traction faster.
In celebration of this year's EOS Strong in Six™ event, we spoke to 4 leaders in their field to get their number one piece of advice for entrepreneurs.
Chris Jones, Certified EOS Implementer® | Speaker | Author
🌟 Delegate and get out of your own way 🌟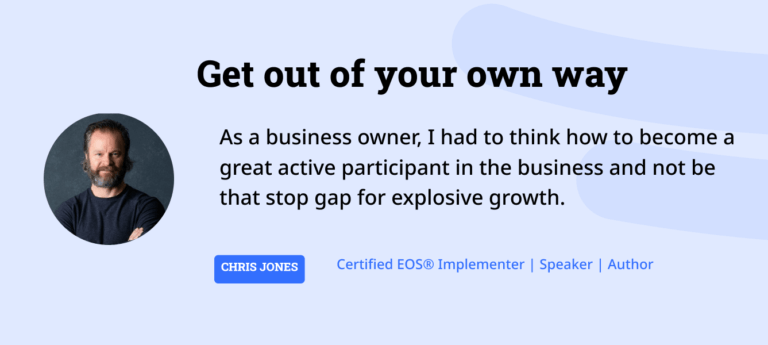 Chris Jones started his first business in university. 
He ran a sporting goods company for 19 years and in that time discovered EOS. Once he read the book Traction and implemented those tools into his business, it was a game changer.
Being a coach at heart in sports and to hundreds of entrepreneurs, he wanted to coach others on how to grow their businesses and so became an EOS Implementer. That was 7 and a half years ago. Since then Chris has worked with hundreds of leaders. 
He's now launching his first book. 
Chris' number one golden nugget piece of advice was "Delegate and get out of your own way".
So I'll give you a real-life example…
We built our processes out following the EOS 2080 rule. I.e. What's the 20% of the work that delivers 80% of the results? After trying to document 252 processes, whe failed miserably. 252 processes is just too much to try keep updated in an entrepreneurial business.
We didn't have process people hired to maintain these. The processes became useless and died in a pile somewhere. 
So we decided to do it right. We did fewer of them and did them right and when people came to me to tell me something went wrong in the business, I'd ask if they'd followed the process. And here's what happened…
Pat Atwal, Professional EOS Implementer & Speaker
🌟 Be open to the journey and take it 1 step at a time 🌟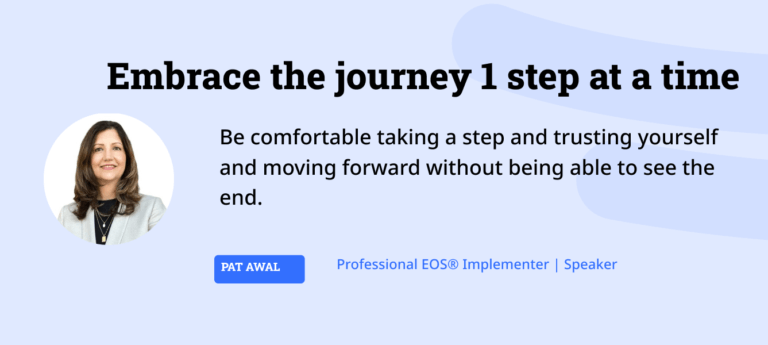 Pat Awal started out her career as a lawyer but found it wasn't as interesting as she thought it would be. 
I found myself as in-house counsel for a technology company in Redmond, Washington, and was supporting the sales and the marketing, and the operations teams and working closely with the leadership team.
Most of my work was evaluating standard commercial contracts by myself and it was really boring! I found the work of the teams much more interesting!
I was fortunate as the company then allowed me to transition over to the operation side of things. I have not looked back since! I've always remained involved in sales and marketing and operations. I enjoy owning the task of creating revenue and creating growth and leading a team.
The company was looking for ways to improve their processes and the two co-owners tasked Pat to get it done.
I eventually ended up as COO and really, really loved being able to guide the company to growth. One of the biggest accomplishments there was, implementing EOS within the company.
Once I went into the C-suite, like many other people, I started to do some self-reflection. I have two kids that are teenagers and realized that I was missing everything. I wasn't at my daughter's ballet practices, I was missing my son's baseball games, and when I was there, I was checking email and I was distracted.
I wasn't able to be in the moment with my children nor my husband. The job was great, but it was very, very weighty, and I was at the point in my life where I wanted to create more balance. So I exited that role and took some time for myself to reflect.
Pat saw the EOS Implementers seemed to love what they were doing and they seemed to have balance. That was the turning point.
And that's how she came to be an EOS Implementer and a keynote speaker.
Pat's number one golden nugget piece of advice was "embrace the journey of entrepreneurship and take it one step at a time".
How does that look in real life we wondered?
It's about making decisions based on facts and data in order to understand the potential risks.
One must be accountable, I absolutely a hundred percent agree with all that, but as you know, there are times where we can get to a place where it's not quite getting us where we want.
Perhaps the numbers aren't showing what we wanted them to, or, the product has not taken off in the way that we had hoped or, the sales team that we have isn't delivering the numbers.
There may be adjustments that need to be made so definitely make decisions based on concrete data but don't be afraid to change your plans if needed.
What's ONE thing you can do today to help you take the journey one step at a time?
✅ Make a list of your priorities in your life from 1 (being the most important) to 5. Then see how you want to prioritize your time in accordance with that.
Amanda Barkey, Professional EOS Implementer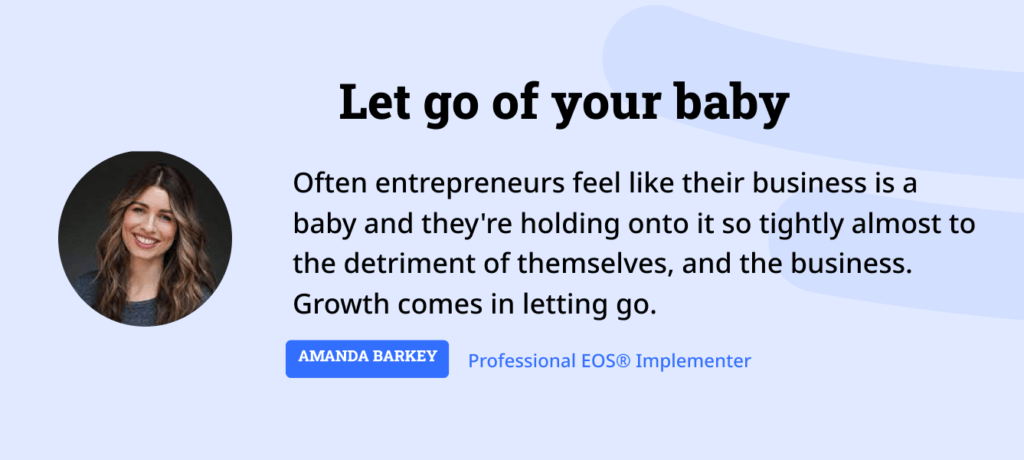 Amanda is Canadian-born professional EOS Implementer. Her grandparents were all political refugees and her parents immigrants, so she is a first-generation born Canadian.
Coming from a family of blue-collar workers, Amanda says hard work and grit are built into her DNA (which built the characteristics for entrepreneurship), but it was only when meeting her husband that she transitioned into the world of entrepreneurship.
I just became obsessed with entrepreneurship. I love being an entrepreneur, and I love helping entrepreneurs. So my husband and I moved down to the states in 2009 to start our first business together.
The first few years were just really hard. We were growing in spite of ourselves and learning from our mistakes. We had a really great reputation but knew we were missing something as it felt like things were out of our control. We couldn't figure out the best and right way to run our business until we read the book Traction.
My husband actually read it twice in one week, and it was a huge aha moment for us!
A light bulb went off and we just realized that there was a better and easier way to run a business. So we implemented, EOS in our business.
That was eight years ago. Today Amanda and her husband have five children. Family takes priority and thanks to EOS they've been able to experience more time and freedom.
Having implemented EOS in their own business. Amanda felt compelled to work with others and became a Professional EOS Implementer®. In addition she started a non-profit organization. Together with managing clients and the family business, she credits being able to do it all because of the EOS framework.
The accountability and the discipline have really been able to free us to do other things. And so we're living proof that EOS works in your business and it's profoundly changed our lives, both personally and professionally.
Amanda credits her success to being able to let go of her business enough to let it thrive.
What's the ONE thing you can do today to help you let go of your baby?
✅ Hire an EOS Implementer or to implement EOS in your business.
Ben Wolf, Author, CEO & Founder, podcast host
🌟 People & Processes go together 🌟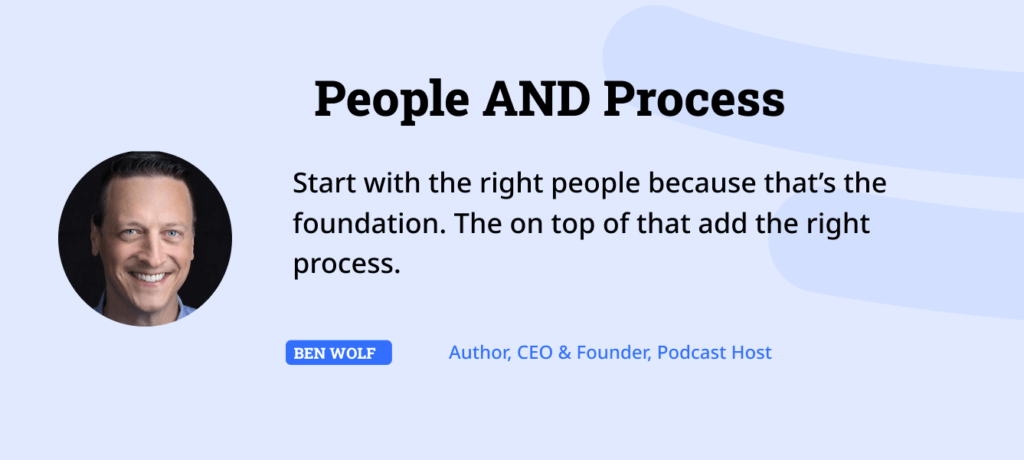 Ben Wolf is the author of Fractional Leadership: Landing Executive Talent You Thought Was Out of Reach and the CEO of Wolf's Edge Integrators: Fractional Integrators™ for companies Running on EOS™. He's also the host on the Win-Win Podcast and a former EOS Implementer.
A native Nashvillian currently living in Long Island, New York, Ben practiced industrial real estate brokerage and then went on to go to law school at night and practice as a corporate restructuring and bankruptcy attorney for five years in New York City. He then joined a visionary entrepreneur to help him create a mission-driven, technology-powered healthcare startup in the home care space. Using the principles and tools of the Entrepreneurial Operating®, he was the company's Chief Development Officer, building up the majority of its operational divisions and leading a variety of projects until, after three years, it was the largest and fastest growing organization of its type in the State.
Now, as Chief Integration Officer at Wolf's Edge Integrators, Ben liberates founders of entrepreneurial businesses ("trapped Visionaries") to help them return to the parts of the business they love while executing on their vision using EOS Tools.
Ben ALSO runs Fractional Leadership – a community for fractional executives of all kinds, and wrote the first book on fractional leadership for business owners titled Fractional Leadership, Landing Executive Talent, You Thought was Out of Reach. 
As if this wasn't enough, he's also the host on the Win-Win Podcast – a podcast where entrepreneurs share actionable information, tools, and knowledge with the entrepreneurial community. (Yes, he's even hosted our very own Co-founder and CEO Gary Vanbutsele on his show to speak about how to overcome the hardest part of documenting).
What's ONE thing you can do today to help you get people and process right?
✅ Hire the best talent for your startup and well of course, we think you should definitely read the book Process!
Dan Sedor, Co-founder and Director of Strategic Services
🌟 Be able to scale and replicate with forever in mind 🌟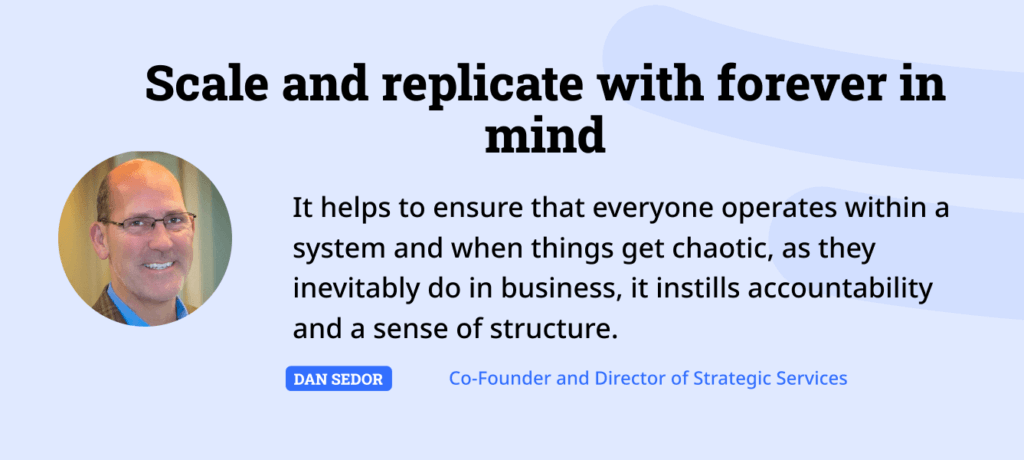 Dan Sedor is the co-founder and Director of Strategic Services for Leadership Resources which is comprised of over 20 team members. He is a strategic growth advisor and is committed to helping entrepreneurial leaders achieve their vision. He oversees our strategic consulting team. Dan and his team use an arsenal of tools and resources to help clients create more effective systems for operating their organizations in order to achieve growth. Prior to launching Leadership Resources, the former EOS Implementer surpassed 500 sessions in a five-year period with clients. 
Dan and his team use an arsenal of tools and resources to help clients create more effective systems for operating their organizations in order to achieve the growth they desire.  As a former certified EOS Implementer, he surpassed conducting 500 sessions in a five-year period with clients. Now that's a wealth of experience! 
As an overall organization, Leadership Resources assists clients in developing high-performing leaders and creating a culture of accountability. The company will be celebrating their 20-year anniversary this coming year. The company has grown from a startup focusing on habit formation for leaders to a reputable, multi-service line organization. 
From Dan's perspective, the key for successful organizations is to have a deliberate, purposeful Business Operating System that integrates strategy, people, processes and more. It helps to ensure that everyone operates within a system and when things get chaotic, as they inevitably do in business, it instills accountability and a sense of order from which good business decisions can be made.  
It helps to ensure that everyone operates within a system and when things get chaotic, as they inevitably do in business, it instills accountability and a sense of structure.
The key is to be able to replicate and scale FOREVER so considering succession planning and creating scalable and repeatable processes are critical.
What's ONE thing you can do today to help you create scalable and repeatable processes?
✅ Take our 14 day Process Challenge!