Are you controlling your business, or is your business controlling you?
This is the opening line of the newly released book "Process!" by EOS Worldwide®, which we were privileged to get a sneak preview of.
Most leaders are controlled by their businesses, not being able to enjoy the freedom of taking time off, training new employees, or run their business efficiently and effectively as it scales.
But it doesn't have to be that way!
This is the reason EOS Worldwide has process as one of the six components of the EOS model. And why they're releasing the aptly named book in September 2022.
We wanted to share our review and why we think everyone needs to read this book!
Process! – How discipline and consistency will set your business free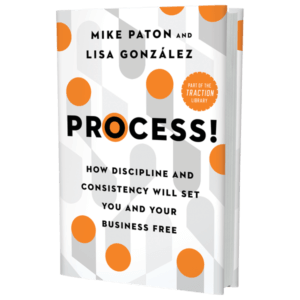 Having grown up in a home full of teachers and entrepreneurs, it's no surprise that Mike Paton has spent much of his nearly 40 years in business helping entrepreneurs and leaders get what they want from their businesses. One of the first EOS Implementers™ on the planet, Paton has helped the leadership teams of more than 150 companies run better businesses and live better lives, co-wrote Get A Grip with Gino Wickman, and succeeded Gino in the Visionary role at EOS Worldwide. He's now a sought-after speaker and the host of The EOS Leader™ podcast, and he continues to create and share content with EOS fans around the world.
Lisa González grew up supporting the operational side of her entrepreneurial family's many exciting businesses. She pursued practicing law to help business leaders but, finding she missed making an impact in day-to-day operations, she joined a family start-up. After years of cobbling together different practices, she discovered and implemented EOS. The result? The organization became one of the nation's largest residential remodelers, boasting consistent revenue and profits while having fun along the way! Today, Lisa shares these best practices as an in-demand speaker, EOS Implementer, and trainer committed to helping teams stop the unnecessary struggle and start experiencing the freedom that comes from running a business using a complete system of proven tools.
Brought to you by
This book is for
Entrepreneurs, team leaders, and scaling businesses!
3 Key takeaways from the book "Process!"

"Every growing organization ultimately reaches a point where passion is simply not enough. The founders and leaders begin to realize that what got us here won't get us there."
This first section of the book deals with the right mindset needed for process and dissects the myths that often prevent process from being implemented. 
Whilst entrepreneurs have the continuous drive necessary to get a business up and running, scaling up requires process. Without giving too much away, there are certain beliefs that prevent entrepreneurs from committing to the process.
With the proper mindset, you will be able to appreciate the monumental impact that strengthening your Process Component™ can have on your business and your life.
Mastering process requires learning the tools and steps needed to have a clear, straightforward blueprint for the exceptional results that your business or team can achieve on a consistent basis. 
The steps to mastering process include:
Identify a handful of processes that represent your core process
Document and simplify each core process
Package your core processes and, most importantly, role them out to the whole organization. This means training team members, measuring impact, managing people in a way that drives accountability, and reviewing and updating process regularly.
It takes the typical leadership team nine to twelve months in order to complete this cycle.
Utilize the above 3-Step Process and tools in order to make use of the EOS system to get process done. Documenting process as a rock and utilizing Level 10 weekly meeting pulses will help you in the learning phase. 
Once you've committed to the process of getting process done and learned the tools and steps needed in order to implement process, it's time to live them in action.
Of course, as with life, this doesn't always go according to plan. People who may have initially been passionate about starting may start to lose focus. There may be a lack of internal expertise or leadership. Perhaps the ability to measure is lacking.
Whatever happens, don't lose traction!
Whatever happens, every obstacle can be overcome. Use templates, technology, and resources to implement a custom action plan for your organization.
Note – it's for this reason that we're so passionate about helping businesses unlock growth with Whale, and why we recommend using the EOS system and related tools.
10 things we love about the book "Process!"
1. The introduction by Gino!
Gino Wickman is a legend in the world of entrepreneurship and the founder of the Entrepreneurial Operating System (EOS). He is also the author of the award-winning, best-selling book Traction and a number of others.
The anecdotal stories interwoven throughout the book! They make the idea and implementation of process more accessible and relatable. 
Like the one of  John Wooden, the legendary coach of the UCLA Bruins, considered by some to be the greatest coach of all time who said
"If you don't have time to do it right, when will you have time to do it over?" 
The magnificently simple but oh-so-appropriate imagery adds a human touch and enriches the reading experience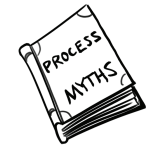 The easy style in which the book is written makes it easy to consume and, more importantly, easy to apply.
The powerful quotes by some powerful people, including Richard Branson and Jim Collins, in each chapter.
The 3-part 'process' to the book that resembles what it takes to get process done!
7. The practical questions
The practical questions in part 3 are designed to help readers apply process in their organizations 
The resources and templates section at the end of the book (including Whale
) are designed to help make process practical and get it done!
9.The strong process checklist
See point 8 re getting process done!
We also love that Whale was mentioned as a resource in the book 
.
Why every entrepreneur needs to read Process!
Well, you don't need to read it if you want to stay static in your business, but if you're looking to optimize, scale, and grow your business then this is the book for you!
The book "Process!" get a 5-star rating for its importance and usability in assisting businesses to move the needle forward.

Process! is just one of seven books in the EOS library, including the legendary book Traction: Get a Grip on Your Business, which has sold over 1 million copies!
The book Process! is for you if…
…you're ready to scale your business! 
For Real!
Get Whale, get Process!
Launching 1 September, in order to celebrate the launch of the book "Process!" we're offering new customers a complimentary edition of the book.
Sign up for a personalized demo with Whale and receive a complimentary copy of Process!