6 Things you didn't know about Whale
Well of course, every company toots their own horn, but we wanted to share a few things you didn't know about Whale.
Whale means love your work, unlock growth
Love your work ❤️. We mean it.
Imagine everyone loved their work. Imagine that teams flourished because they were productive. Imagine that everyone in the team was thriving because they communicated consistently and had the right information at the right time.
Imagine how much faster companies could scale because everyone was onboard and constantly learning and implementing.
This is what we believe it means to 'love your work'. It isn't just an airy-fairy unicorn-style pipedream. No. We believe that unlocking growth in business happens naturally when teams are engaged.
The future is entrepreneurship. Keep building. Love your work
We're voted No 1 for customer support on G2
We're SUPER excited to share that G2 awarded us "Best customer support" in their Autumn Report 2022 🤩
We were also awarded;
🏆 Best High Performer Small-Business
🏆 Best Support Small-Business
🏆 Best Support 
🏆 High Performer
In the categories of Knowledge Management, Standard Operating Procedures and Training Management Systems!
We're really proud of our team and our mission to keep delivering! It's an incredible achievement as only one product gets awarded the best support badge in each report. 
Ps IF you haven't been through customer onboarding with Stino, you haven't lived. Even if we do say so ourselves.
We introduced intuitive systemizing for entrepreneurs
Entrepreneurship isn't for sissies. It's hard work. 🥵
It's hustle, getting investment, managing a team, and focusing on growth. IN BETWEEN dinner with the in-laws and taking the kids to school, never mind trying to fit in time to exercise and sleep.
When our co-founder Gary found himself unable to sleep because he was trying to put out a million fires, he knew something had to be done. It's how Whale was born.
"If you keep solving the same problem, the problem isn't the problem anymore, it's that fact that you're not using a system to solve it."
We're obsessed with ROI and numbers
Our mission is to help scaling companies unlock the next level of growth in their business. But you can't unlock growth without measuring it.
Sales boomerang 
We like to know what we're aiming for, and we know that our customers do too! 
That's why Whale has a dashboard to help you track what's being used and what's important; by date and by person.
Knowing what makes a difference in a business is key. That's why we put together this ROI calculator to help you work out the exact difference Whale could make in your business.
We integrate with the world's best tools
Productivity isn't a one-time thing, nor is it a one-tool thing. Systemizing means just that – having a system for success. 
Different tools, platforms and apps do different things but here are some of our customer's most favorite apps that we're generally asked to integrate with.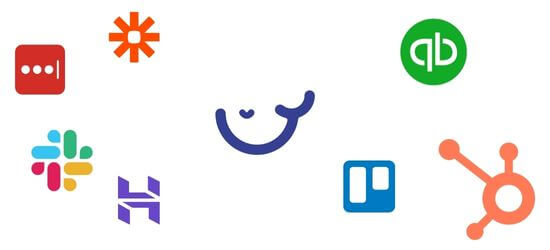 But first – the app to end all apps ZAPIER!
Zapier lets you connect Whale with thousands of the most popular apps, so you can automate your work and have more time for what matters most—no code required.
Through Zapier, you can connect to Asana, Slack, Gmail, Trello and more.
Want to know more about how to Create New Hire Accounts in Whale through BambooHR? It's simple through these easy steps.
Chrome brings Whale to YOU
Does this sound familiar?
You'll be working on something but then have to go to a different app to find the additional information you might need. On the way to look for that information, you answer an email and forget what you were looking for.
It's called being human.
You can cut down on distractions and time spent looking for information by installing the Whale Chrome extension, which will simply bring information to you in the apps you're working on. 
No time spent searching, no distractions.
A fact about Whales you probably didn't know
Whales have the longest migrations of any mammal? And what's more, they never lose track! If you think about it, the journey of entrepreneurship isn't too different.
Is Whale a match for you?