Learning how to write Standard Operating Procedures (SOPs) can boost productivity, increase revenue, and maximize ROI – but only if you get it right.
Get it wrong and your employees will be frustrated, bored, and ready to move on — just like the 86% of employees looking for new jobs because of their company's broken processes. 
The problem is, SOPs are notoriously dense, jargon-packed, and hard to follow, making it a struggle for employees to finish tasks, and leaving companies out of pocket thanks to lost productivity.
But there is another way.
With the right tools and a quality SOP writing process, you can leap ahead of the competition to boost ROI and watch your revenue skyrocket. 
In this ultimate guide, we'll give you the whats and whys of a great SOP, show you how to write Standard Operating Procedures that actually boost ROI, and share the ultimate Standard Operating Procedures template.
Are you ready? Let's go.
How to write Standard Operating Procedures in 7 simple steps
What is an SOP?
Step #1: Involve the right people
Step #2: Choose your toolkit
Step #3: Get the procedure down
Step #4: Create a resources section
Step #5: Use the ultimate Standard Operating Procedures template
Step #6: Focus on UX
Step #7: Improve and update your SOP
How to write Standard Operating Procedures: The lowdown
Ready to boost your ROI with smart, simple SOPs? Get in touch to find out how Whale can help.
Standard Operating Procedures (SOPs) are the instructional playbooks that show employees exactly how to get work done. They unify operations, keep standards to a set quality, minimize training time, and ensure processes lead to the same output every time.
SOPs can be used in any department at any level, and generally have the same format (more on this in a minute). So, once you know how to write a Standard Operating Procedure that shines, you can do it again and again. 
1. Involve the right people
To get your Standard Operating Procedure format right, you need to get the right people involved from day one. Remember, the more eyes you have on your SOP from the get-go, the more likely you are to smash it.
Here's who to involve (get at least one of each on your development team):
Departmental supervisors who manage the procedure outcomes.
Employees who have worked on the procedure (or a similar one) before and know the fine details of how it should work and what would make it easier.
Subject matter experts who can offer extra insights for a truly polished process.
So once you've gathered the right folks, set up a meeting and ask them to take you through the process step-by-step.
Boring Word docs are old news — these days, you can make your SOPs truly shine with the right tool.
From automated updates to instructional videos, there are a million and one ways to make your SOPs easier (and more fun) to use.
Knowledge and training platforms are a great way to create, maintain, and share procedures across teams while keeping track of who sees what, when.
Sounds awesome? That's because it is.
Looking for a knowledge and training platform to bring your SOPs into the 21st century? Get in touch to find out how Whale can help.
3. Get the procedure down
Writing killer Standard Operating Procedures can take time — but with 76% of business leaders saying documentation issues impact revenue, it's clearly worth the effort.
When it comes to writing SOPs employees love, you have three options:
The checklist: Checklists are the most straightforward Standard Operating Procedure format and are great for simple procedures with only a few steps.
The flowchart: Most SOPs have inbuilt complexities best shown in a flowchart format. There are different types of flowcharts, but all are visual (if a little boring).
The knowledge platform: To truly live the SOP dream, knowledge and training platforms are the way to go. Using a digital platform allows you to create, manage, and share SOPs at the click of a button. Plus you can make them super visual for maximum employee engagement.
Alternatively, you could always work with an external content development or migration expert to document your procedures.
4. Create a resources section
Now you have the procedure down, it's time to add the frills.
From the what-goes-where to any extra equipment, links, or handbooks, this step is all about giving employees what they need to actually get the work done.
Here's what to include:
The breakdown: Your instruction breakdowns are the extra need-to-know details for employees to get the job done, and can include just about anything. For example, if you're onboarding a new hire, your SOP step might say, 'Send policies to the new hire', while your breakdown would define which policies (for example: Health and safety guidelines, Nondiscrimination policy, etc).
The toolkit: Here's where you list the equipment needed for each step, including anything from computer programs to physical tools. Let employees know where they can find it, how to access software, and give links to any existing resources (for example, a guide on how to set up and use your onboarding software).
Health and safety: Some tasks have inherent health and safety issues. Include warnings, precautions, and links to health and safety policies here.
5. Use the ultimate Standard Operating Procedures template
At Whale, we know what it takes to create the perfect SOP.
Here's a simple template to make sure you check every box, every time:
Header: This is pretty self-explanatory, but your header should be clear and simple with any relevant keywords, plus your version number.
Purpose: Your purpose defines what your SOP is actually for. Think: Goals, departments, outputs, etc.
Scope: This section explains the who and what of your SOP. Who does it exist to help? Who will use it? What departments will benefit? If it helps to clarify your intention, include what the SOP doesn't do, as well as what it does.
Definitions: Make sure everyone can understand your SOP by defining abbreviations and industry terms. Remember, simple language is always best.
Roles and responsibilities: Explain who's responsible for what. If this is a long list, you might want to narrow the scope and split your SOP into multiple procedures.
Procedure: Three words: Keep. It. Simple. Your procedure should be as easy to follow as possible, so get help to drop any unnecessary detail if you need it.
Resources: Complex flows might need extra visual aids or explanations (check out the resources section above for more info).
Version control: Keep a record of changes and updates, including why the changes were made.
Sign-offs: If your SOP needs sign-off from senior employees, keep a note at the end of the doc to prove it's been authorized.
If you've signed up for Whale, you'll know that your dashboard comes already populated with templates. So you can just modify as needed.
It's all very well getting your SOP down on paper, but if it doesn't look good or it's not easy to follow, your employees probably won't use it.
Here's how to focus on user experience (UX) to ensure maximum SOP love:
Keep it simple: Simplicity is king when it comes to SOPs employees actually want to use. Ask yourself, 'Do I really need this word/sentence/step?' If not, lose it.
Drop the jargon: Some SOPs are so jargon-dense it's hard to spot the instructions through the acronyms. Where possible, drop the unnecessary lingo and stick to simple wording.
Make it visual: In a world of 24/7 TV, black-on-white Word docs no longer cut it. Use video, screenshots, memes, or gifs to bring your SOP firmly into the 21st century.
Highlight important sections: Use fun visuals to highlight those can't-miss sections. Think: emojis, design elements, or borders.
7. Improve and update your SOP
Standard Operating Procedures are live documents you need to consistently keep an eye on.
As your business grows, your SOPs should become more streamlined – so make sure you've got a killer updating process in place to keep on top of changes and improve as you go.
Here's how:
Delegate SOPs (or sections of your SOP) to subject matter experts within your teams.
Give them regular reminders to update their section.
Updates should include dropping anything that saps time/resources and could be simplified.
Share updates with the employees who use the SOPs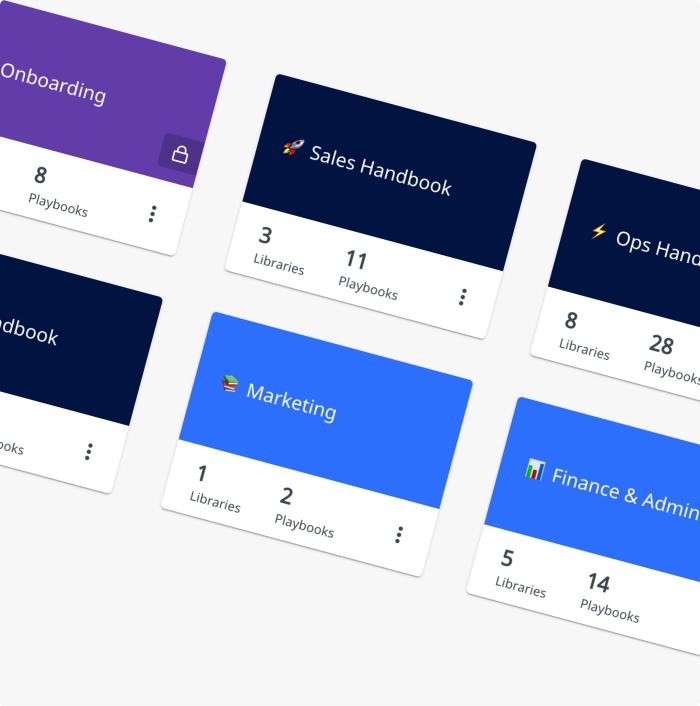 How to write Standard Operating Procedures: The lowdown
Gone are the days of SOP paperwork pile-ups. These days, digital is the new king. Platforms and technology tools are designed to help you scale.
Use a knowledge sharing and training platform to breathe fresh life into outdated documentation, you're guaranteed to boost productivity, improve ROI, and watch your revenue skyrocket.
From easy-to-use dashboards to those visual extras, there are a ton of ways the right tool can help uplevel your SOPs so employees can dig deeper. With the right tools, the possibilities are endless.
Want to scale your business with killer SOPs employees actually love?
Download our complimentary Ultimate Guide to SOP and Knowledge Management