An interview with the GM of Canopy by Hilton Portland Waterfront 
With a workforce spanning nearly 420,000 people across 114 countries, it's impossible to imagine how Hilton manages to maintain its world-renowned customer service! 
The Canopy by Hilton Portland Waterfront is a franchised Hilton property owned and managed by 🏨Fathom properties.
We spoke to GM Ginny Petrovek to find out the secret to their employee onboarding.
Hilton Ranks #2 Workplace in World
Hilton has been named one of the World's Best Workplaces by Fortune magazine and Great Place to Work. For the second consecutive year, Hilton has ranked #2 on the list of the top 25 companies and remains the only hospitality company on the list.
Over the past four years, Hilton has been ranked as the best place to work more than 100 times by the Great Place to Work Institute, including the #1 Best Company to Work for in the U.S., Saudi Arabia, Italy, Turkey, and for Women (U.S.) in this year alone.
"During our milestone 100th year of hospitality, it's an honor to be once again recognized as the #2 Best Workplace in the World and remain the only hospitality company on the list," said Chris Nassetta, President and CEO of Hilton.
The culture at Hilton remains its key pillar to success.
But how do you roll it out across almost half a million people?
Graduate at Hilton University
With over 300,000 Team Members across corporate offices and hotels in 91 countries, training by the Hilton is a monumental effort. 
Hilton University (HWU) provides more than 5,000,000 hours of training each year through over 2,500 courses delivered in a wide variety of training formats, including classroom training, eLearning, webinars, e-books, live and taped programs, recommendations for on-the-job learning experiences, social learning, and more.
There's everything from the expected computer training, which is necessary for everyone, to safety training and, yes, even bed-bug training.
An Interview with Ginny Petrovek
Whilst the Canopy by Hilton Portland Waterfront is just one of the thousands of Hilton properties, we wanted to catch a glimpse into the daily life of the hotel and what it's like to onboard new team members.
The boutique hotel celebrated their first anniversary after having newly opened in 2021. Ginny and her team have a tall order to keep to keep standards high and guests 100! satisfied.
A highly talented leader with exceptional dedication to customer service, Ginny has a contagious inclination toward excellence and, in her words, "being the best we can be."  
Ginny's experience includes three hotel openings, giving her valuable skills in both team development and guest satisfaction. Given her experience, we chatted to Ginny about the secrets of employee onboarding success. 
What is the secret to employee onboarding?
The secret to employee onboarding #1 – Just do it
In a business like running a hotel, things have to run like clockwork. Everything from the room cleanliness to coffee temperature to the check-in experience has to be seamless. 
Not only do team members have to get it right, but they have to get up to speed quickly.
In hotel life, when you have staff, you need to throw them into the operation pretty immediately but ignoring the onboarding process isn't an option. We consider how we onboard to ensure that we're saving time so that they get the training done.
We set up routine check-ins over the first three months for a team member to get a good sense of how someone is doing.
It helps us prepare for when Hilton instates their annual quality assurance audit. Of course, they're checking cleanliness and guest experience, but they're also checking your training requirements and making sure that your staff has gone through everything needed.
The secret to employee onboarding #2 – Use a system and a checklist
I had never had any Hilton experience before. I've been a, been a Marriott girl through and through. So transitioning to Hilton was a learning curve, says Ginny
Getting team members up to scratch is all about using a system.
Hilton has a way they do things. They have a platform within their internal site for team members called Hilton university, and it has a whole database of all the training requirements that are expected from your department managers to your line-level staff.
Through our pre-opening, they gave us a spreadsheet with all the expected learnings that each team member is meant to go through. This ranges from their property management system computer training to actual on-the-job training. They lay it all out, and that is even before brand training.
Canopy has maybe six different classroom pieces of training that are all interactive. It really hones in on what the brand expectation and like ethos are for customer service. It also outlines what's important to the brand and some of the verbiage which is a critical piece in laying the foundations for our culture.
Want an onboarding checklist for your startup but don't know where to start?
Check out our employee onboarding checklist below 👇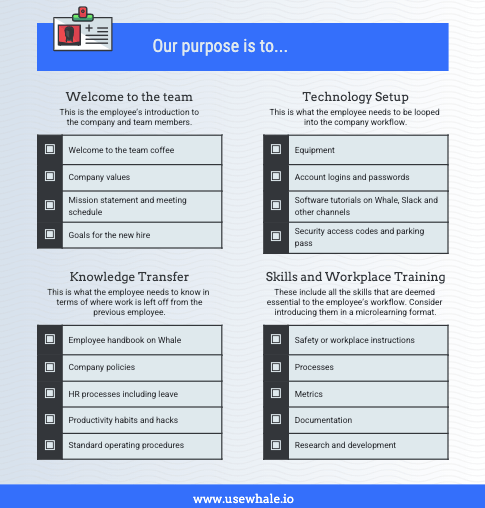 The secret to employee onboarding #3 – Culture through and through
As the hospitality industry emerges from one of the most challenging times in its history and the world returns to travel, Hilton has once again been recognized for its outstanding workplace culture.
Years ago, I worked out in Colorado at Vail resorts, which was, at that time, just starting their hospitality division. Now that I'm at Hilton, I realize just how influential culture is. 
Here, as a franchise property, you really have a clear expectation on everything you have to have dialed in. From their perspective, it really is about making sure it happens.
We've just celebrated our one-year anniversary on June 30th. As a boutique hotel with brand pillars that are central to the guest experience, we have our own identity, but the Hilton culture of customer excellence is threaded through everything.
Tell us something we don't know
I have a killer team, and it makes the world of difference. I probably spent the first 30 days of the hotel opening here, physically, but now I'm here 5 days a week. Well, probably 7 in my mind but 5 physically.
Having a great team means I can take time out. It also means we band together when needed!
Like when we had to move all the furniture out of the rooftop bar in just an hour!
Lessons for start-ups and scale-ups
Okay, so you don't have 400 000+ employees, nor do you wish to. Why should you pay attention to the Canopy by Hilton story?
Ginny Petrovek has just a handfull of top rated team members. Yet her onboarding process ensures that her team can deliver the best service in the world. 
Want to scale your business? 
The proof is in the proverbial pudding. The faster you can get your team members ramped up and delivering the very best service, the more customers are going to want to do business with you.
Before any new team member starts, consider
The employee perspective – what would you like team members to see, feel and know?
What is the number one impression you want your new hires to come away?
When will onboarding start?
When will it finish
What is the critical information new hires need to know?
What do new employees need to know about the company culture and work environment?
What kind of goals do you want to set for new employees?
How will you measure its success?
What onboarding software to help you manage the process?
Documents you may want to consider implementing in your employee orientation include an employee handbook, company SOPs, workplace instructions, a job skills checklist, and the 30-60-90 day review process.
Want to know more? Check out our ebook on how to optimize your onboarding process.