Amos Schwartzfarb is the author of "Levers the framework for building repeatability into your business."
Amos has been growing businesses for twenty-five years and investing in startups for the past decade. Since 1997, he's helped build companies that sold to Yahoo!, R.H. Donnelly, The Home Depot, and more.
Today, he is the Managing Director of Techstars and author of the best-selling book Sell More Faster: The Ultimate Sales Playbook for Startups. 
We spoke to Amos on The Unlocking Growth Show about the framework and the steps you need to take to apply this in your business.
What is "Levers the framework for building repeatability into your business" about?
Levers shows you step-by-step how to identify and move the levers that unlock growth and create predictability across every aspect of your business. 
Built on decades of experience across hundreds of companies, Levers condenses the essentials of creating a metrics-driven company into five core workshops and puts them directly into your hands so you and your team can get to work.
Spanning sales and marketing, product, operations, and finance, each workshop puts you one step closer to finding a model for growth that is repeatable and controllable.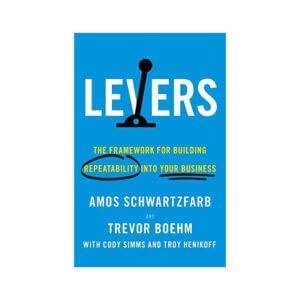 Give us a 30-second summary of the book
Essentially "Levers the framework for building repeatability into your business" is a series of frameworks that make up one big framework. 
It will help a CEO, founder, entrepreneur, or even a more mature business person to look at their business and understand the things that will help them identify the real levers. It's so that they control the dials of repeatability in order to scale.
It's about using data-driven insights, not gut-driven ones.
We wrote the book for founders that are pre-series B and really pre-series A; businesses that are up and running but don't have momentum.
The bottom line is that these businesses lack repeatability.
People often mistake scalability for repeatability, but they're not the same thing.
Why the focus on repeatability versus scalability in Levers?
A lot of people use the word repeatable and scalable as synonyms. 
They're not; they're very different steps. 
You find repeatability, and then you scale. Not the other way around.
If you scale before you have repeatability, you inevitably are scaling the wrong things and are more likely to fail. But if you understand what's repeatable, then you know what you can scale and how to scale it.
You need to find that repeatability before building your playbooks and sharing that with your team.
First is the process, and then comes sharing and hence scalability.
Levers the framework for building repeatability into your business
Amos states that "Levers the framework for building repeatability into your business" isn't a book to read. It's a book to do.
So what are the six elements to master?
1. Articulate your Mission and Vision publicly
Amos states that the VERY first thing is, as a founder, as a CEO, and as an entrepreneur, that you will have a mission and vision in your head. You know your purpose at heart.
That's great, but if you're not talking about it and if your staff don't know, your customers don't know, and if your investors don't know, then it is impossible to get everyone aligned for all of the rest of the work. 
No one will be going in the same direction because no one knows where you're going.
It has to be articulated publicly.
It doesn't have to be in the perfect set of words so long as everyone knows that they're headed to California, so to speak, and not just going swirling in circles, going somewhere west.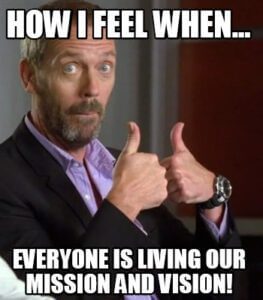 2. Define your customer set using the W3 method
Asking the three W questions is a must!
Namely;
Who do you believe your customer is? And what is the data you have to prove your right? 

What do they buy from you? Not what do you sell for them, to them, but what do they buy from you?

And why do they buy it?
We suggest checking out the piece on Jobs to be Done because it's not simply a matter of answering these questions from a gut sense but really checking the data to see if it's backed up.
3. Define your Revenue Formula along with the drivers and sub-drivers
Your revenue formula is simply what is the business?
If you're selling t-shirts, you sell, you have t-shirts, and you sell a number of t-shirts per customer at a price per t-shirt, and that gives you your revenue.
Some businesses are more complicated, but very simply, it's just a math equation. When you're a mature business, it's your high-level dashboard.
Where this becomes really important is as you think about each one of the values in that formula, there's something that will drive each one of those. 
So the step is to map all of this out.
4. Prioritize the assumptions that need validation
Up until now, you've collected a bunch of information. It's a lot. 
How do you make sense of it?
It's all about validating assumptions, which essentially allows you to look at all of this and figure out what's valid and what isn't.
Consider four quadrants; high priority, low priority, validated, and unvalidated.
If you're working on stuff that you know in the business works, you've got validation.
High-priority unvalidated is the stuff that, if it doesn't work, the business will fail. 
Whether you're a billion-dollar business, you're still going to have to do this.
Anything below the line you shouldn't be working on.
5. Set KPIs to measure movement in assumption validation
The next step is about knowing that you're headed in the right direction.
It's all about KPIs!
This is in preference to "OKRs" (Objectives and Key Results) because it really is about key performance indicators, which helps to be able to predict future performance.
What you want to make sure of is that the data is indicating you're headed in the right direction and that your assumptions are valid.
6. Build a data-driven model and plan and use it as a primary tool to run the business
You don't have to have a shiny dashboard. If you just have an Xcel spreadsheet, that model becomes the blueprint for what you think and how you think the business is going to work. 
It may or may not actually work that way, but now you have a blueprint for what you need to go and do;
What am I doing this week? 

What am I doing this month? 

What are we doing this quarter?
You use the model as a way to say, "Hey, are we actually doing the things that we thought we would do? And are they the outcomes that we hoped they would be?"
Ideally, you use something like an L10 meeting to check in each week to see if you're on track.
If the answer is yes, great, keep going. If the answer is no, whether it's better or worse, now you have more information so that the crystal ball that you're trying to create becomes more and more clear over time.
If you're not building repeatability into your business, you don't have a winning growth formula.
Undoubtedly you've already identified your secret sauce and now you either need to get it documented, train your team or measure the impact. 
Why not join our Process Challenge to help you do just that or simply jump on a call to discuss.