What you'll learn
Understand why your team should document their procedures and processes
Where to start with your documenting journey
Get examples and best practices
How to measure the impact of your SOPs.
Creating the perfect customer experience throughout the customer journey is the pinnacle of a modern business approach. The role of your customer service team in this journey is not to be taken for granted. They ensure that your product or service completes and enriches your customer and that the outcomes derived from implementing your solution lead to business success.
Let's face it, if you drop the ball on this, you will lose customers 😕, and we don't want that! That means that your CS team's product, service, and internal knowledge need te to be up-to-date!
Don't worry if you're not there yet.
With our guidelines for Customer Service procedures and processes, we are making sure of just that, and you give your team the right asset to help your customer achieve their desired outcome.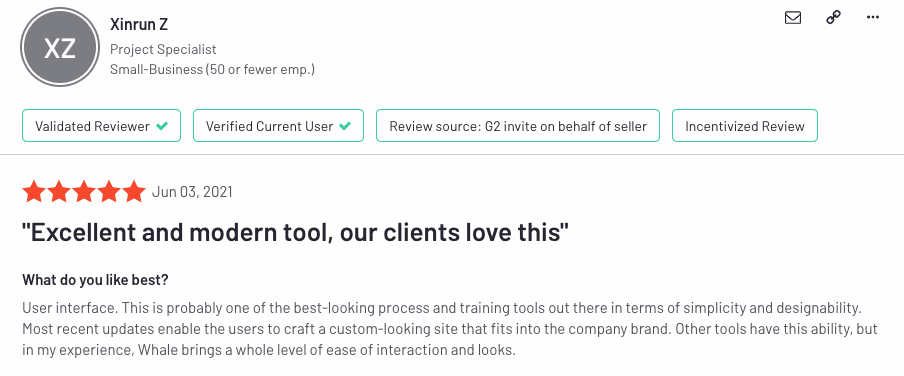 Benefits of a Customer Service SOP and Process documentation
The importance of SOPs include saving time, operating efficiency and being able to focus on other areas of the business including customer experience. But does this relate specifically to Customer Services?
Well-written, interactive service procedures increase customer satisfaction, increase agent engagement and retention, improve contact center metrics, and reduced costs.
Although crafting a Customer Service SOP takes time, you'll instantly start seeing the results.
This is what you can expect:
Increased speed of Answers
Rather than having each agent develop their own messaging, answers, and resources to use with customers, give them ready-made content. This enables them to increase their reply speed.
Reduced call handle time
Quick access to your team's frequently recurring questions helps them handle calls better and faster — a win-win for you and your customer.
Reduce training time
Training new service agents are far quicker and easier when you have clear, explicit explanations of products and security knowledge, support processes, and messaging and troubleshooting info.
Reduces mistakes
Having your way of work documented leaves less room for error. Everyone knows what is expected of them and how to handle different situations.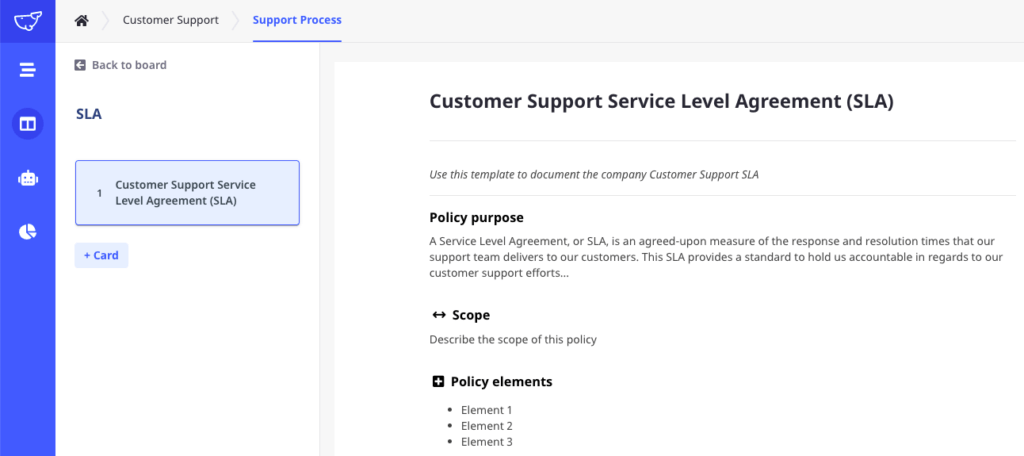 Every customer service team needs SOPs. How to write them in Whale;
When writing your procedures, we recommend starting with an overall structure first.
In Whale, you can structure your content in different structural layers.
We start from boards, the highest level to Libraries, playbooks, and most detailed content levels, cards.
Examples of customer service libraries are:
Customer interactions
Troubleshooting info
Products
Tools
Next, you should define what elements you want to document in each library. We recommend you create several playbooks per library.
Your people are likelier to adopt a short, focused Playbook over a long, complex, multi-faceted one. It's also less overwhelming to tackle your SOPs in sections rather than all at once.
Examples of playbooks in customer interactions library are:
Handling complaints
Using the customer service Tone
How to say NO
The right way to handle a customer crisis
Once you have defined these elements, you can start documenting your how-to's and best practices.
Measure the impact of your documentation
Reaction action is the measured reaction/evaluation of how your employees felt about the training or learning experience. You can do this by actively asking what they think works well and what you could do better. With Wale, we let employees comment on the different training materials so the experts can improve on them.
Training evaluation is the measurement of the increase in knowledge – before and after. For example, are there fewer questions after you implemented that highly demanded playbook?
If not, back to the drawing board!
The behavioral impact is the extent of applied learning back on the job – are the participants doing anything different after you launched the new training & knowledge material?
Business impact is the effect on the business or environment by the participant as a result of the use of your knowledge management system.