The 3 SOPs you need for your employee onboarding program
Onboarding new employees are one of the most important aspects of a hiring manager's job but creating an onboarding program can be difficult without the right guidance.
What should you include in your program? And what are the best practices for onboarding new employees?
With John Elder from The Business Blocks, let's discuss the three SOPs you need for your employee onboarding program. 
We'll also provide tips for implementing each SOP. 
Keep reading to learn more!
What is an SOP for onboarding?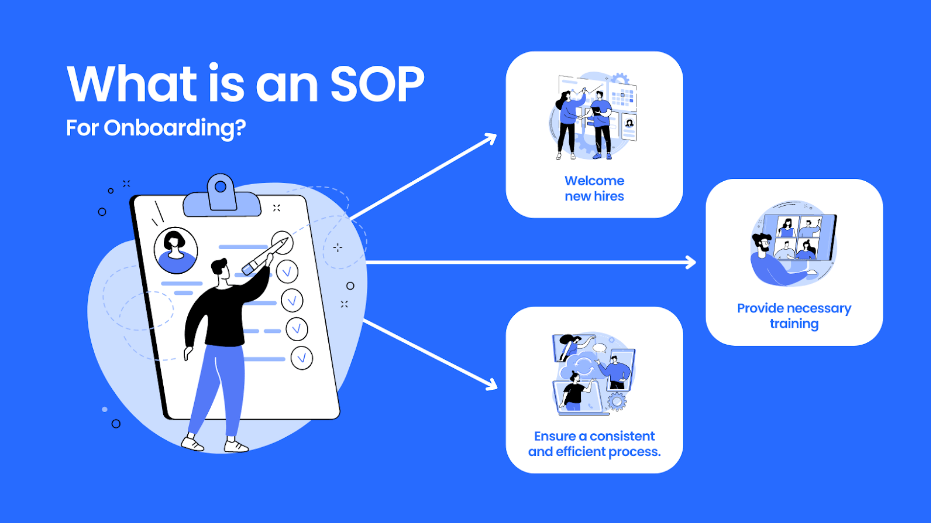 An SOP, or standard operating procedure, for onboarding refers to a system for welcoming new employees and providing them with the necessary training and resources to succeed in their roles.
This can include creating an employee profile, setting up a workstation, reviewing company policies, and providing job-specific training.
By establishing an SOP for onboarding, companies can ensure that all new hires experience a consistent and efficient process.
In fact, research has shown that implementing a structured onboarding process can lead to new employees reaching desired levels of productivity 50 percent faster than without one. Creating an SOP for onboarding can have numerous benefits for the individual employee and the organization.
You can learn more about the formula for process, SOPs, and work instructions in this article "The difference between process, SOPs, and work instructions".
Why do you need SOPs for onboarding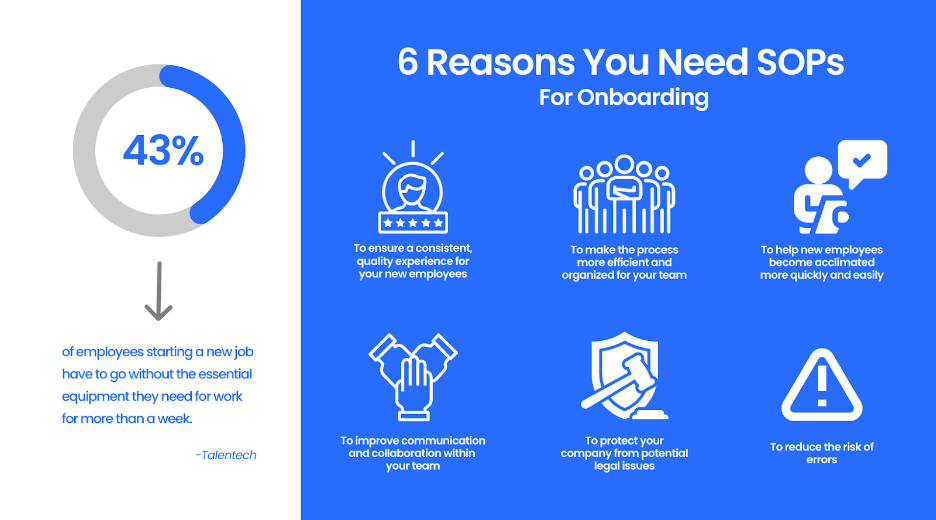 In a study from TalentTech, It was found that 43% of employees starting a new job have to go without the essential equipment they need for work for more than a week. This is why you need an SOP for onboarding new hires and why you should avoid the common gaps for onboarding.
Here are 6 reasons you need SOPs for onboarding:
 1. To ensure a consistent, quality experience for your new employees
When you have SOPs in place for onboarding, it helps to ensure that every new employee has the same high-quality experience. This can make a big difference in terms of employee satisfaction and engagement.
2. To make the process more efficient and organized for your team
SOPs can help to streamline and optimize the onboarding process, making it more efficient and organized for your team. This can free up time and resources that can be better used elsewhere.
3. To help new employees become acclimated more quickly and easily
SOPs can help new employees become acclimated to their new role and company more quickly and easily. This can help reduce turnover and increase retention rates.
4. To improve communication and collaboration within your team 
Having SOPs in place can improve communication and collaboration within your team, as everyone will be on the same page regarding the onboarding process.
5. To protect your company from potential legal issues 
If you do not have SOPs in place for onboarding (or any other HR process), your company could be at risk for potential legal issues. Having SOPs can help to protect your company from any potential liability by ensuring all the legal status of the employment is set up and correct for the state.
6. To reduce the risk of errors
By having SOPs in place, you can help to reduce the risk of errors being made during the onboarding process and thus reduce the re-work of documents.
The role of HR, manager, and employee in onboarding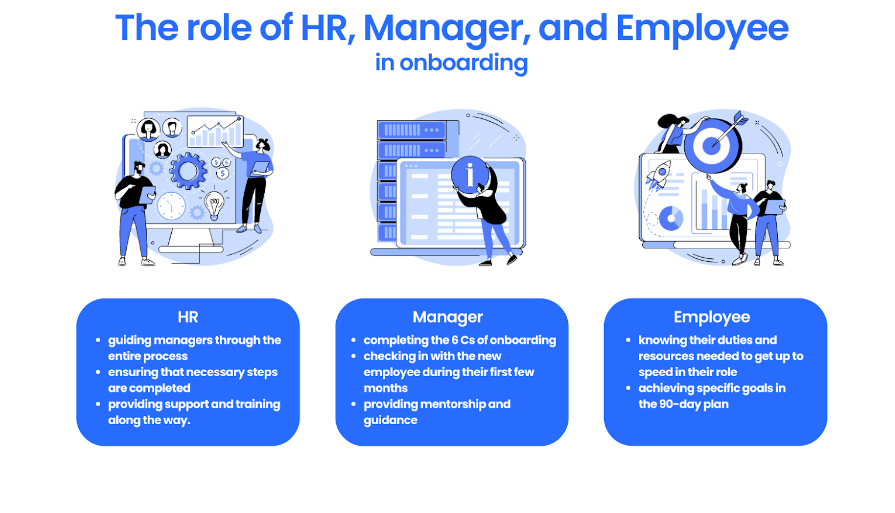 HR professionals are often in the spotlight when it comes to onboarding and for good reason, they have a great impact on the business if they have a successful onboarding program. They're responsible for ensuring new employees know exactly how they can do their job and what's expected of them.
They also help managers figure out who should report to which department or region within an organization. Let's take a look at their role in detail:
1. HR Role – From Recruitment to offboard the employee
The role of Human Resources in the onboarding process goes beyond simply scheduling orientation and filling out the necessary paperwork. HR is responsible for guiding managers through the entire process, ensuring that necessary steps are completed, and providing support and training along the way.
This includes conducting background checks, verifying documents, setting up orientation agendas, and providing guidance on onboarding materials such as employee handbooks and company policies. In addition, HR plays a crucial role in the pre-onboarding phase by vetting job candidates and assessing their fit for the company culture.
By effectively managing the onboarding process from start to finish, HR helps lay the foundation for successful new hires and a positive work environment.
2. Manager – Pre-onboarding to their first 3 months
As a manager, it is important to take an active role in the onboarding process for new employees. This includes completing the 6C's – like Compliance, Clarification, Confidence, Connection, Culture, and Checkback.
In simple terms:
       

It is an outline of company policies and expectations.

       

It covers their job responsibilities.

       

Setting up their workspace and equipment.

       

Coordinating introductions to colleagues.

       

Collecting necessary paperwork and documents.

       

Creating a personalized development plan.
It is also crucial to check in with the new employee during their first few months to ensure they acclimate well to their role and address any challenges or concerns that may arise. Providing this support sets them up for success in their new position and helps foster a positive company culture.
By the way, the manager's role in onboarding goes beyond just introducing new hires; it involves providing mentorship and guidance as they settle into their role within the organization.
3. Employee checklist and 90-day plan
As part of the onboarding process, managers can provide new hires with an employee checklist and a 90-day plan. The checklist lets the employee know their duties and resources needed to get up to speed in their role.
The 90-day plan, meanwhile, serves as a roadmap for the initial stages of their employment, setting specific and achievable goals for each month.
By providing these tools, managers can ensure that new hires integrate into the organization seamlessly.
For example:
A 90-day plan for a sales representative might include goals such as:
     

Learning about the company's products and

     

Making a set number of sales calls by the end of the first month.

     

Closing a certain number of deals by the end of the second and third months might be a good plan.
By setting forth this clear path, employees and managers can work towards long-term success at the company.
Onboarding new hires are crucial in two ways. Not only does it help new employees feel valued welcome and more prepared but it positively affects the company as a whole for example through increased efficiency, enhanced retention and increased chances of achieving company goals.
SOPs are important for any employee onboarding program. They ensure that new employees understand the company culture and what is expected of them. By having SOPs in place, you can be sure that your employees are productive from day one.
Do you have SOPs in place for your employee onboarding program? 
If not, now is the time to create them.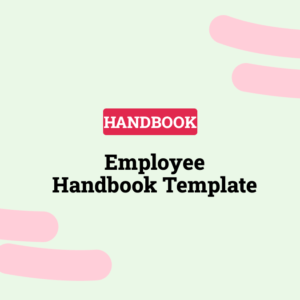 Employee Hanbook template
Creating an employee handbook is hard right? Wrong! This template is designed to make it easy!