"In a genuine sense, employee experience is about making employees excited, proud, happy, and confident in and of the work they do." (SpaceIQ)
It isn't just about superficial happiness; great employee experience is fostered through inclusive leadership, the employee's sense of genuine contribution, and an ability to collaborate and create impact within an organization.
Employee experience doesn't begin when a new team member is hired; it begins long before that, even before someone is hired, from the first impression right through to hiring, onboarding, and career path development to offboarding and exit.

But why does employee experience matter in 2023?
Despite the fact that a number of prominent 'tech star players' have been featured in the media for their recent firing sprees, retaining top talent remains a challenge for many SMEs and scale-ups in 2023.
Global labor trends like the "Great Resignation" and "Quiet Quitting" have seen a level of volatility enter the labor force. Retaining top talent rose as a top challenge for organizations in the past year with 75% of executives saying that The Great Resignation impacted their financial stability.
But what does a great employee experience look like?
There's a reason that nearly 50% of leaders around the globe said employee experience is their top priority for 2023: Getting it right leads to better productivity, boosted brand awareness, and increased retention and revenue.
Sounds great, but what does the ideal employee experience actually look like?
Employees feel supported and valued: Company culture is key to a great employee experience. It's all about being part of a community where employees feel supported but also feel like they contribute to the whole.
Team members have opportunities for learning and development: With 87% of millennials saying ongoing training is important to them, ensuring your employees have easy access to training is everything.
Teams know what to do and how to do it: No one likes to be a burden on their team. That's why ensuring employees have everything they need to get the job done with minimal fuss is vital to a great employee experience.
McKinsey suggests 9 elements to get right in creating a great employee experience; people and relationships, teamwork, social climate, work organization, work control and flexibility, growth and rewards, purpose, technology and physical environment.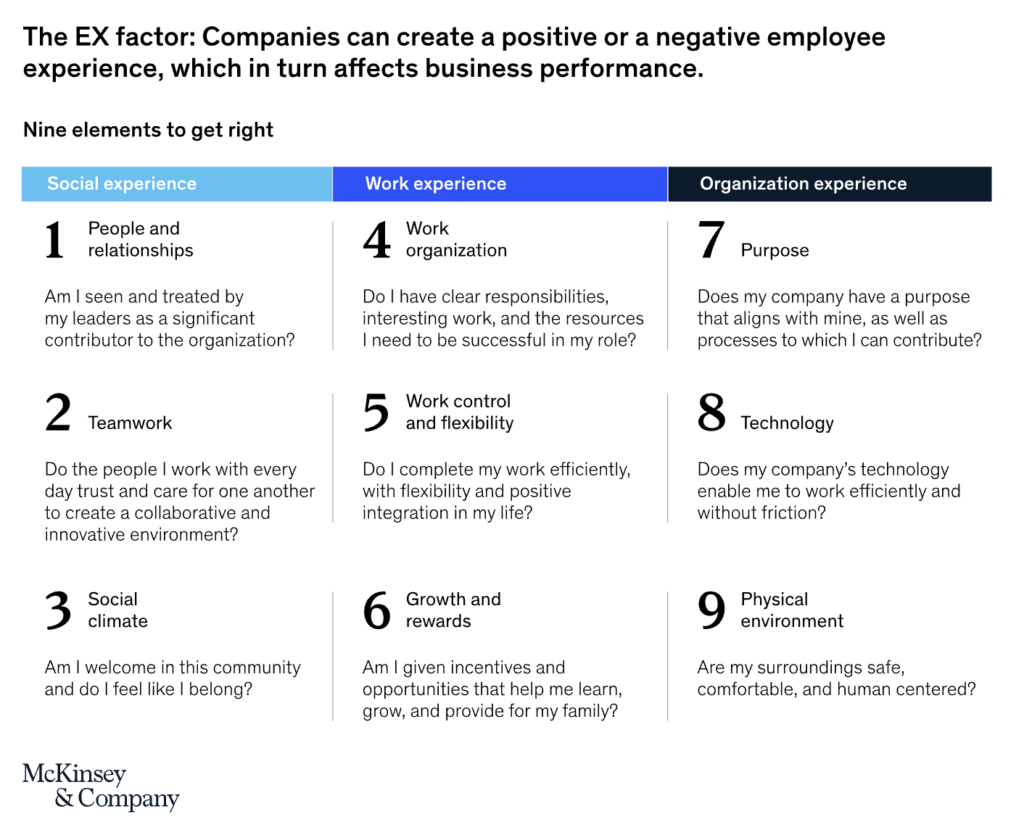 What does great employee experience have to do with SOPs?
Your employees are the best brand ambassadors you're ever going to get — so the employee experience you offer them matters. 💡
From the way you communicate, to how you manage Standard Operating Procedures (SOPs), employee experience has a direct impact on how your people view — and talk about — your brand.
And you already know that the better reputation your brand has, the better your ROI. 😉
But what does it take to engage employees so they can't wait to come to work each day? And how do you drill down on employee experience to boost productivity and revenue?
It's simple: create the best procedures possible and make their every-day easy to love.
🌟 Standard Operating Procedures (SOPs) can contribute to a great employee experience by providing clear and consistent guidelines for employees to follow, which can help reduce confusion and errors.
🌟 SOPs can also ensure that all employees are aware of the company's policies and procedures, which can help foster a sense of accountability and ownership among employees.
🌟 Additionally, having SOPs in place can make it easier for managers to train new employees and ensure that they are performing their duties correctly.
Overall, SOPs can help create a more efficient and organized work environment, which can lead to a more positive employee experience.
Ready to boost your employee experience with smart SOPs? Get in touch for a free Whale demo today!
A quick SOP checklist for the ultimate employee experience ✅
It's no coincidence that how you communicate and equip your teams has a direct impact on the type of employee experience they have.
The moral of the story? Standard Operating Procedures can help employees feel supported, autonomous, and well-trained.
Here's a quick rundown of what you need for SOPs that check all the boxes:
Clear and simple language: Dense, jargon-packed SOPs are way too common. Stand out from the crowd by making it easy for your employees to get straight to the point. Ask yourself, 'If my life depended on it, would I need this word/sentence/paragraph?' If not, drop it.
Engaging visuals: Today's workers are part of the 8-second attention span generation — so these days, 100-page SOPs just won't cut it. Look for creative ways to up your SOP game, like digitizing content, making it super snackable, and adding video, gifs, and images for extra visual punch.
Regular updates: It's all very well creating beautiful streamlined SOPs — but if they're out of date, you'll end up with a lot of frustrated employees. Designate sections to subject matter experts in your teams, remind them when updates are due, and encourage employees to check in once the changes are live.
🐳 Whale Deep Dive: How learning in the flow of work boosts employee experience
Learning in the flow of work is all about offering employees quick and easy access to snackable learning content on the go.
Imagine your employee is about to write a sales email, but the queries start rolling out: 'What's the best wording for this again? How do I structure my email? What are our company taglines?'
Answering all those questions = a lot of wasted time for your employee and their colleagues.
But there's a better way. With Whale's Chrome Extension, your SOPs are instantly accessible as soon as employees open different tools. So, next time your employee goes to write that sales email, they'll have all the information they need at their fingertips, with no digging necessary.
Now that's what we call an awesome employee experience. 👌
Use a smart knowledge and training platform to make your SOPs shine
It sounds like a lot of work to get your procedures up to scratch — but with the right tools, it can be simple.
From having ultimate control over your visuals to checking who's engaged with what, the right knowledge and training platform makes it easy to create, manage, and view your SOPs for the ultimate employee experience.
Whether you're onboarding employees or showing seasoned teams how to run new procedures, your SOPs have a huge impact on the employee experience — and once you've got it right, your teams (and your bottom line) will thank you for it.
Ready to create smart SOPs your employees will love? 

Download our "Ultimate Guide to SOP and Knowledge Management"